The Sentinel
(2006)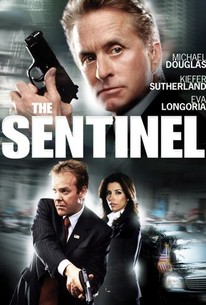 TOMATOMETER
AUDIENCE SCORE
Critic Consensus: The Sentinel starts off well enough but quickly wears thin with too many plot holes and conventional action sequences.
Movie Info
Pete Garrison, a U.S. Secret Service agent who heads the First Lady's detail, is being framed as traitor in a plot to assassinate the President. Whoever is framing Garrison knows he's vulnerable because he's hiding a monumental secret. Garrison goes on the run, pursued by investigative agent David Breckinridge and Jill Marin, a tough and ambitious young agent. Until recently, Breckinridge was one of Garrison's best friends. Marin requested the work detail with Breckinridge because Garrison, while leading a field instruction exercise at the Secret Service Academy, told Jill that Breckenridge was the best investigator in the Service. Now, Garrison must nail the real mole and save the President's life.
News & Interviews for The Sentinel
Critic Reviews for The Sentinel
Audience Reviews for The Sentinel
½
"In its 100 plus years of existence no Secret Service guy has ever been a traitor ... ! " or something like that, and therein the entire plot synopsis (in less than 25 words, baby!!!) and you probably can guess the rest of this, er, "thriller". The cast does its best, I guess, but you might not think so.
Kevin M. Williams
Super Reviewer
The Sentinel is a good action film that has a decent cast. This film is good entertainment, but it could have been much better. The film certainly is good entertainment, but at times it lingers and it just becomes good. The film starts off great, leaves you on the edge of your seat, but somewhere near the middle part, it just becomes a good film, and its potential is wasted a bit. I think that The Sentinel could have been a great action thriller. However the film is just good, and never becomes anything beyond that. After a while it loses its great qualities and simply becomes a good flick. The script could have been reworked a few times to really make this one stand out. The performances make the film work, but there's something missing to really make this one stand out. Overall The Sentinel is a good film, one that could have been great; but due to script limitations, its true potential is unrealized. Thus The Sentinel becomes another in a series of popcorn action thrillers that could have actually been better than what they turned out to be. If you want a good thriller then this is a must see for a mindless evening of entertainment, just don't expect anything great like I did, or else you'll be disappointed. The Sentinel is good, but like I previously stated could have been a lot better than what it turned out to be. However this is a good flick to watch nonetheless even if it's never anything beyond good.
½
In 141 years, there's never been a traitor in the Secret Service.... Until Now. Saw it again! The movie is very good and it's very fun and the action scenes are very well done, this movie reminded me of the TV series 24. The acting was surprisingly good. Nice solid cast. Very recommended. Pete Garrison is a Secret Service Agent. Another agent wanted to talk to him but could at the time. Later the man is killed. One of Pete's informants tells him that there's a plot to kill the President and whoever is going to do it controls someone in the Secret Service. He believes it is this information that the other agent wanted to talk to Pete about. So an investigation is ordered and another agent, David Breckenridge, Pete's protégé is placed in charged. All agents are subjected to lie detector tests and Garrison fails but not because he's the one, but because he's been having an affair with the First Lady. Later more evidence is unearthed that incriminates Garrison even further which he says was planted. Breckenridge refuses to believe him because of some personal issues they have. So Garrison escapes and tries to find his informant, who's disappeared.
The Sentinel Quotes
There are no approved quotes yet for this movie.