Separate Lies
(2005)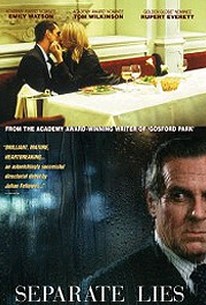 TOMATOMETER
AUDIENCE SCORE
Critic Consensus: Though the characters in this tasteful adult drama keep a stiff upper lip, the moral dilemmas are nuanced and the emotional pain feels real.
Movie Info
A damaged relationship is stretched to its desperate limits in this drama. Anne (Emily Watson) and James (Tom Wilkinson) are a seemingly happy and prosperous British couple who divide their time between a flat in London and a house in the country. However, their marriage is not as contented as one might imagine, and for years James has turned a blind eye to just how deeply unhappy Anne has become with him. Their lives together reach a crossroads when Anne meets the handsome and charming Bill Bule (Rupert Everett); Anne becomes deeply infatuated with him, which only reinforces her dissatisfaction with James, but when the two become involved in an accident that kills another man, Bill drops out of the picture and James decides he must step forward to protect the woman he wed. Separate Lies was the directorial debut from screenwriter Julian Fellowes.
Critic Reviews for Separate Lies
Audience Reviews for Separate Lies
Separate lies, starring Emily Watson, Tom Wilkinson, and Rupert Everett is a good drama. A film that centers on a love triangle of a married couple and a death of a neighbor intersects these people...very good film.
Mason Williams
Super Reviewer
½
[font=Century Gothic]In "Separate Lies", James Manning(Tom Wilkinson) is a high powered solicitor who commutes to London from his home in Buckinghamshire, where he lives with his wife, Anne(Emily Watson). Despite his reluctance, Anne throws a cocktail party but James ducks out by staying late at the office. In the meantime, their housekeeper's husband was killed by a hit and run driver. After noticing a scratch on the car belonging to their neighbor, William Bule(Rupert Everett), James confronts him and gets an admission of guilt and a promise to turn himself in to the police. When presented with this news, Anne is taken aback because not only was she in the car with William when it happened, but she was actually behind the wheel. To make matters even worse, William and Anne have been having an affair.[/font] [font=Century Gothic][/font] [font=Century Gothic]"Separate Lies" is an understated drama with some very powerful scenes. Themes of success, guilt and morality are handled in a very intriguing manner. [/font][font=Century Gothic]The movie is buoyed by an excellent performance by Tom Wilkinson. And nobody does leonine decadence like Rupert Everett.[/font]
A quiet indie drama starring Tom Wilkinson, Sepearte Lies takes almost a noirish approach to the topic of upper-class English infidelity. James Manning (Wilkinson( discovers after years of happy marriage to Anne (Emily Watson), that she has been having a private affair behing his back. He actually discovers this by accident; a by-product of prying into a local hit-and-run accident. With a subtlye approach, Wilkinson expresses his character's dark curiosity in both the accident (?) and said affair. In this regard, his status is shown up for what it really is: a social formality that means nothing to his position as a male. This can make the film disappointing to some, as James is walked on by his wife (and nearly everyone else) in spite of him being the jilted lover, and never really does anything about it. Though this does ably illustrate the complexity of maturity, it also serves to make the film unsatisfying, as James starts a doormat and stays so. Excellent performances scuppered somewhat by an inconclusive script.
Antony Stubbs
Super Reviewer
Separate Lies Quotes
There are no approved quotes yet for this movie.