11'09''01 - September 11
(2002)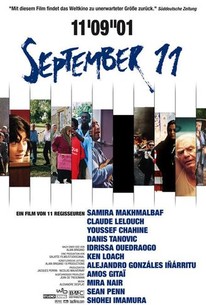 11'09''01 - September 11 Photos
Movie Info
In the aftermath of the tragedies on September 11, 2001, the French film company Studio Canal called upon a group of filmmakers, representing various regions of the world, to address the scope of the situation in however broad or intimate a context as they saw fit. The one guideline they were given was that no one film could exceed 11 minutes, nine seconds, and one frame. The resulting omnibus film, 11'09"01, showed at festivals around the world the following year and garnered a theatrical release in 2003. Each filmmaker's entry takes a different approach: French director Claude Lelouch tells the tale of a World Trade Center tour guide who is on the verge of a breakup with his deaf girlfriend when the terrorist attacks hit; similarly, Hollywood actor-director Sean Penn chronicles the lonely existence of an old man living not far from the Twin Towers. Egyptian director Youssef Chahine and British social realist filmmaker Ken Loach created the most controversy with their entries, which, respectively, address the points-of-view of a suicide bomber and of a Chilean who recalls the brutal coup funded by the United States in his country on September 11, 1973. Alejandro González Iñárritu's piece is the most abstract, taking images from television on the day of the attacks and cutting them with selected bursts of sound. Samira Makhmalbaf, Danis Tanovic, and Idrissa Ouedraogo all tell small-scale stories of the effects of the attacks on tiny villages in Iran, Serbia, and Burkina Faso, respectively.
Critic Reviews for 11'09''01 - September 11
Audience Reviews for 11'09''01 - September 11
Gonzalez's short is stunning. It is the best part of this collection which has a generally high standard. Well worth investing in
A unique view on an historical tragedy. Of particular note is Sean Penn's short - very brilliant.
John Ballantine
Super Reviewer
11'09''01 - September 11 Quotes
There are no approved quotes yet for this movie.