September Dawn
(2007)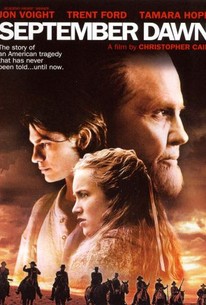 TOMATOMETER
AUDIENCE SCORE
Critic Consensus: With its jarring editing, dull love story, and silly dialogue, September Dawn turns a horrific historical event into a banal movie.
Movie Info
Director Christopher Cain takes an up-close look at the devastation wrought by religious fanaticism with this romantic drama set against the backdrop of the 1857 Mountain Meadows Massacre. As a wagon train of westward-bound settlers makes its way across southern Utah, a confrontation with a congregation of Mormons soon leads to deadly consequences for all involved. Jon Voight, Lolita Davidovich, and Jon Gries co-star in a historical drama centered on the massacre, which continues to stir controversy over a century and a half after the fact. Terence Stamp and Dean Cain contribute small roles as Brigham Young and Joseph Smith, respectively -- who were not directly involved with the massacre but are pictured in flashbacks.
News & Interviews for September Dawn
Critic Reviews for September Dawn
Audience Reviews for September Dawn
Very black and white views on where the truth really lies. Yes, it was a shameful act in history that people ought to know about, but who's to say FOR SURE what really happened then. People need to know the CORRECT AND KNOWN facts and then make up their own mind from there. However, there was one great line in one of the special features that sums up what I believe... God save us from men doing God's work. AMEN!!!
Leigh Ryan
Super Reviewer
My wife and I were flipping through internet ready movies looking for a comedy, and boy did we hit the jackpot! I almost considered giving the film 2 stars for its comedic value alone, but I figured I'd better not give it more than it truely deserves. First off, I will say I am a Mormon. This film in no way offended me, it just cracked me up. I seriously laughed out loud when the scene came on showing the wagon train Christians praying and thanking God for the help of the Mormons with smiles on their faces and the sun shining brightly before them, juxstiposed with the evil black dressed nazi-Mormons praying to curse and damn them to hell for "wearing pants"...I can't remember the last time we all sat around in church praying curses on people and damning them to Hell, but I'm sure we do it all the time. Granted, the Meadows Massacre was a horrible thing. The movie portrayed the history party true, and partly misleading, but don't all "historical dramas"? Every historical drama, whether it's Braveheart or Gladiator all tell half truths and fill in the rest to fit their agenda and make a story work. I have no problem with that, and I'm not even going to argue any facts. But as for a movie itself, it was awful! They easily could have told the story with a more unbiased viewpoint, which would have been just as interesting. Instead, they had to take as many pop shots at Mormons as possible. I love that the prophet suggests that every man should have 3 wives, even though an incredibly small percentage actually had more than one. I love that an apostle can take a man's wife because it was told to him in a vision (and then kill her later for trying to take her kids> WTF?) The crowing jewl of this disaster movie is when Jon Gries castrates someone and pins their balls to the wall. Five star laughs there. These people were crappy, and most of it was misrepresented and taken out of context, but they were just a radical group. And there is no proof that Brigham Young had anything to do with, and on the contrary proof that he did try and stop it...but let's not let facts muddle up a good story! Instead lets just put in the end that the church denies it like they're hiding it or something. And this whole doctrine they made up about killing people who do wrong is awesome. I love how in my church we can slit people's throats who do something wrong. The atonment of Christ? What's that? Why do what Christ says and forgive people through repentance when we can kill them? Anyone stupid enough to believes this junk deserves to enjoy this film. Well, I'm getting tired of this review, so I won't even go into how horrible the acting and what not was. I do think however that I want to dress up like the blood covered indian brother for Holloween. P.S. Jon Voight must have shot JFK, because he is a true sniper with that 1800's rifle.
Curtis Lilly
Super Reviewer
The film is so clear cut in portraying a black and white scenario, it literally presents the Mormons as like-Nazis, and the wagon train as a pure, innocent, happy-go-lucky bunch.
The Mormons who committed the massacre were fanatics, no doubt, but the movie portrays the events in its own fanatical way.
Yes, on another September 11, another massacre took place in the name of religion. Now you have to watch the entire massacre take place and every person slaughtered in bloody glory on screen. That's the problem with shallow movies like this. They claim to be sympathetic to and meditative on the cause, but they entertain you with brutal violence.
Not to mention the ear-cringing dialogue, cliched scenarios, and god-awful cinematography.
At least the modern day tragedy that the film alludes to is evident.
Edward Boxler
Super Reviewer
September Dawn Quotes
There are no approved quotes yet for this movie.