Serendipity
(2001)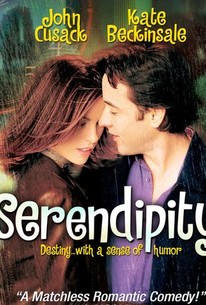 Movie Info
On a bustling shopping day in the winter of 1990, Jonathon Trager meets Sara Thomas. Two strangers amid the masses in NYC, their paths collide in the mad holiday rush as they fall victim to a mutual attraction. Despite the fact that each is involved in another relationship, Jonathon and Sara spend the evening wandering Manhattan. But when the night reaches it's inevitable end, the two are forced into determining some kind of next step. When the smitten Jonathon suggests an exchange of phone numbers, Sara balks and proposes an idea that will allow fate to take control of their future. If they are meant to be together, she tells him, they will find their way back into one another's life.
Critic Reviews for Serendipity
Audience Reviews for Serendipity
i like this movie, unlike a lot of other romcoms that ive religiously watched with the vain hope of it being good and finally saying its a romcom to be proud of, this movie is disappointing its sweet and i love kate beckinsale regardless of a shit movie! Its enjoyable and amusing and worth a watch for those who love romcoms and who have lost faith in all romcoms out there!
Film Crazy
Super Reviewer
I'm generally not a chick flick/romantic movie type of guy. However, I LOVE "Serendipity". This is my favorite romance movie. I love the premise, I love the performances, I love the music, I really love everything about it. It's the story of Johnathon(John Cusack) and Sara(Kate Beckinsale). They meet one night by chance and have a great time. But Sara worries that they aren't meant to be, so she comes up with a plan. She writes her name and phone number in a book, and he writes his name and phone number on a 5 dollar bill. If they ever find the other, they will call each other and know it was meant to be. Years pass and both have moved on with their lives. Johnathon is about to get married and Sara has just gotten engaged. However both want desperately to find the other, to know for sure if they were meant to be. My favorite character in the movie is Dean(Jeremy Piven), Johnathon's best friend. Piven is one of my favorite actors, and brought a lot to the role. Every time I see this movie on tv, I stop and watch it. It's just such a fantastic movie. If you've never seen it, what is wrong with you? Go get a copy and sit back, and just fall in love. If you have seen it, well look for it again and be reminded of how great of a movie this really is.
Everett Johnson
Super Reviewer
A quirky and fun film! Romantic and a feel good film!
Bethany Murphy
Super Reviewer
Serendipity Quotes
| | |
| --- | --- |
| Sara Thomas: | Okay. Favorite movie. |
| Jonathan Trager: | The correct answer is Cool Hand Luke. |
| Sara Thomas: | I've never seen it. |
| Jonathan Trager: | Oh, come on. You've never seen Cool Hand Luke? Paul Newman? Oh my god. Come on! "Failure to communicate." Sadistic cop in sunglasses with no name. Reminds me of you in that way. |
| Sara Thomas: | Um, favorite New York moment. |
| Jonathan Trager: | This one's climbing the charts. |