Serenity
(2005)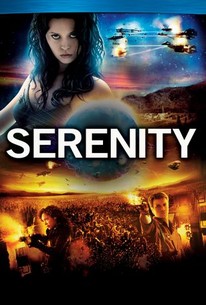 Movie Info
A band of renegades on the run in outer space get in more hot water than they anticipated in this sci-fi action-adventure adapted from the television series Firefly. In the 26th century, the galaxy has been colonized by a military force known as the Alliance, but its leadership has not gone unquestioned. The Alliance was once challenged by a league of rebels known as the Independents, but the Alliance emerged victorious after a brutal civil war, with the surviving Independents scattering around the galaxy. Also wandering the edges of the galaxy are the Reavers, who have won few allies due to their violent behavior and habit of ripping apart their enemies and eating them before they're dead. Capt. Malcolm "Mal" Reynolds (Nathan Fillion), who fought as an Independent in the galactic war, is the head of Serenity, a rogue frieghter ship whose crew includes Mal's first mate, Zoe (Gina Torres), who fought alongside him in the war, her husband, hotshot pilot Wash (Alan Tudyk), sunny but dependable mechanic Kaylee (Jewel Staite), and hard-nosed gunman Jayne (Adam Baldwin). The crew of Serenity wander the galaxy, taking on whatever work they can get, from criminal activities like smuggling and stealing to legitimately offering transport to travelers. Passengers aboard Serenity include professional "companion" Inara (Morena Baccarin) and holy man Shepherd Book (Ron Glass), but the real trouble aboard the ship comes with the arrival of Simon (Sean Maher) and his teenage sister, River Tam (Summer Glau). In time, the crew discovers that River has remarkable psychic powers and was being held captive by Alliance forces until Simon came to her rescue. Now the Alliance is hot on the heels of Serenity and its passengers, with The Operative (Chiwetel Ejiofor), a sinister Alliance tracker, leading the chase. Serenity was written and directed by Joss Whedon (in his directorial debut), creator of Firefly, which only lasted 11 weeks on the air but gained a powerful cult following who rallied to get the show released on DVD after its cancellation, leading to impressive home-video sales and and an eventual motion picture deal. A couple of months prior to Serenity's theatrical release, reruns of Firefly were picked up by the Sci-Fi channel, adding even more fans to its cult following. ~ Mark Deming, Rovi
News & Interviews for Serenity
Critic Reviews for Serenity
Audience Reviews for Serenity
This Firefly movie is an excellent follow-up to the short-lived series, offering a lot of awesome action, witty exchanges of dialogue filled with dry humor and characters that we care about - a wonderful gift for the fans and a very entertaining sci-fi Western for everyone else.
Carlos Magalhães
Super Reviewer
The crew of a spaceship operating on the ragged edge of civilisation are targeted by the ruling Alliance for harbouring a pair of fugitives that have knowledge of a secret that is potentially devastating to their regime. The fans of cult sci-fi western Firefly were aware that Joss Whedon was capable of creating a hugely enjoyable fantasy blockbuster a good while before The Avengers hit our screens. Serenity is the conclusion to the swiftly - and unjustly - cancelled TV show and contains the same formula of likable characters, funny one-liners and space bound action that made it so beloved by the few who actually saw it. The idea of a roguish smuggler going head to head with a charismatic villain to expose the folly of an evil empire is not unlike that of a certain other infamous franchise; in fact Serenity could be considered Han Solo: The Movie and captures the charm of the original Star Wars trilogy far more successfully than its own prequels. Existing in the space between Pirates Of The Caribbean and Minority Report, Serenity makes a perfect conclusion to Whedon's space-bound saga and I encourage anyone who enjoyed The Avengers to seek out copies of both this and the original Firefly series.
Serenity is the work of an auteur. It's hard to call Joss Whedon that since he primarily works in fantasy, horror, and sci-fi (apparently only Godard, Scorsese, and Welles can be considered auteurs), but there hasn't been a space opera film thoughtful, funny, well acted, entertaining, and lively since the original Star Wars. A masterwork for fans of Firefly and great fantasy alike.
Edward Boxler
Super Reviewer
Serenity Quotes
| | |
| --- | --- |
| Capt. Malcolm "Mal" Reynolds: | I mean to confound these bungers. |
| | |
| --- | --- |
| Capt. Malcolm "Mal" Reynolds: | I aim to misbehave... |
| | |
| --- | --- |
| Capt. Malcolm "Mal" Reynolds: | I'll take the shuttle in closer. Zoe, ship is yours. Remember, if anything happens to me, or you don't hear from me within the hour... you take this ship and you come and you rescue me. |
| Capt. Malcolm "Mal" Reynolds: | I'll take the shuttle in closer. Zoe, ship is yours. Remember, if anything happens to me, or you don't hear from me within the hour, you take this ship and you come and you rescue me. |
| Zoe: | What? And risk my ship? |
| Capt. Malcolm "Mal" Reynolds: | I mean it. It's cold out there. I don't wanna get left. |