Sergeant York
(1941)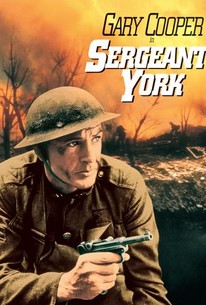 Movie Info
Based on a true WWI story, this film follows a religious Tennessee boy, who is initially opposed to war. York is drafted into the Army, where he realizes that there is indeed justification for fighting. In the course of service, he becomes one of the most decorated heros of WWI.
Critic Reviews for Sergeant York
Audience Reviews for Sergeant York
½
Gary Cooper won an Academy Award for his portrayal of the World War 1 soldier who captured 132 German soldiers in action at the Argonne, but Walter Brennan (nominated Best Supporting) does his fair share too. Howard Hawks, the director, keeps out of way of the story of a backwoods roustabout whose life turned around. Good movie experience.
Kevin M. Williams
Super Reviewer
A "simple" Appalachian converts to Christianity and then goes to WWI. There is a scene in which York is struck by lightning, which propels him to "find God." While it purports to be based on a true story, shit like that makes me doubt its veracity. What's worse is the film's treatment of York, who is portrayed without even enough sense to tie his shoes, yet by the end of the film, we're supposed to revere his bravery and conversion from conscientious objector to violence. This characterization - I balk at calling anyone in this film a "character" - not only paints Americans and Appalachians as decidedly anti-intellectual, but it also suggests that Christianity is mutable enough to be jettisoned at the first call of violent duty. Overall, this film is both insulting and ridiculous.
Jim Hunter
Super Reviewer
½
I liked Sergeant York but wasn't absolutely floored by it. The first half of the movie where York is a hell-raising yokel was entertaining, even if it did feel kind of forced. The second religious half was good even if there weren't enough of the WWI battles I'd expected and storywise it was more interesting, too. I'm not the world's biggest Gary Cooper fan but he was pretty good here. The hickishness of Sergeant York got kind of annoying after awhile but consider the source. Overall, it wasn't what I expected but it was still good.
Michael Gildea
Super Reviewer
Sergeant York Quotes
There are no approved quotes yet for this movie.