Sergeants 3
(1962)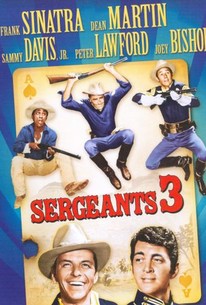 AUDIENCE SCORE
Critic Consensus: No consensus yet.
Movie Info
The 1939 adventure classic Gunga Din is transferred from British India to the American West, courtesy of Frank Sinatra's "Clan." Sinatra, Dean Martin and Peter Lawford play three cavalry officers, always ready for a brawl but willing to die for each other if need be. Sammy Davis Jr. a cavalry bugler who has aspirations of being a combat soldier. The three officers and the bugler take on a Napoleonic Native American chief, who plans to unify all the tribes and kill every white man in sight. Davis does his "Gunga" bit by blowing his bugle and warning the approaching cavalry that they're riding into a trap. About all that isn't pilfered from Gunga Din is the death of the noble bugler; Davis survives being shot up by the Indians with little more than a flesh wound! Sergeants Three also stars another Sinatra crony, Joey Bishop, playing the role originally essayed in Gunga Din by Robert Coote.
Critic Reviews for Sergeants 3
All Critics (3) | Fresh (1) | Rotten (2)
Well, the boys are just having their fun, so we might as well relax and go along with them.
Low key Western burlesque, with the Rat Pack sometimes having fun swaggering around as Western "heroes".
It's one of those questionable camaraderie pics where the actors seem to be having a better time than the viewers.
Audience Reviews for Sergeants 3
This is definitely the worst film of the Rat Pack movies. 4 for Texas is my favorite, but I don't understand why it is considered a Rat Pack film since Frank and Dean are the only ones in it. There is a lot wrong with this film. First starting with the script. It has these characters all over the place and you never have the sense that these guys were army buddies. It hurts me to say this, but fucking Sinatra is phoning this one in from Hoboken it seems like. half the time he is just staring off into space and when he does have dialogue its like acting 101 coming out of his mouth. Nobody played drunk better than Dean Martin, and in this he is doing a really awful impression of himself. Sammy Davis Jr. as the idiot black guy just trying to be part of the team is just to silly. I kept waiting for him to just slip and call Sinatra "Massa". I can not stand Peter Lawford, never have. He is not a good actor. He has a swanky british accent, thats it. Sinatra never liked Lawford and the only reason he was ever able to get into this group was because he was Frank's in to get to become friends with JFK. Same thing with Ocean's 11, he just fucking bugs me. Just a real boring Western. When it comes to Frank and Dean I can usuaslly look past it, but this movie is just that bad. Why anyone thought Henry Silva could play an evil Indian is mind boggling.
Keith Munley
Super Reviewer
Sergeants 3 Quotes
There are no approved quotes yet for this movie.