Series 7: The Contenders
(2001)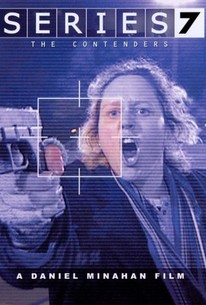 TOMATOMETER
AUDIENCE SCORE
Critic Consensus: Boasting no big-name stars, Series 7 is surprisingly well-acted. Its timing is impeccable, with its dark humor casting shadows over the enjoyment and popularity of today's reality-TV shows.
Movie Info
In this take-off on reality television programs (shot on digital video), a show entitled "The Contenders" has just selected six people at random for the high-rated series. Their mission: to assassinate one another until there is one lone survivor. Among the contestants are Dawn (Brooke Smith), the reigning champion who claims ten kills in two tours thus far -- and who also happens to be eight months pregnant; Tony (Michael Kaycheck), a blue-collar family man; Connie (Marylouise Burke), an emergency-room nurse who strongly believes in God; Franklin (Richard Venture), an aging conspiracy theorist; Lindsay (Merritt Wever), an average 18-year old high schooler with a set of interfering parental units; and Jeff (Glenn Fitzgerald), an artist dying of testicular cancer who also happens to be the long-lost love of champ Dawn (which is why the show's producers forced them to reunite under such odd circumstances). "The Contenders" must learn to outwit each other and create effective diversions in order to protect themselves, particularly Dawn, who is fighting for not only herself, but her unborn child as well. Series 7 is the debut feature from screenwriter Daniel Minahan (I Shot Andy Warhol).
Critic Reviews for Series 7: The Contenders
Audience Reviews for Series 7: The Contenders
½
Hilarious! I love this film. They quicky push you to the edge of what Reality TV can be..then add a love story too. This film holds a mirror up to the American Culture..and reveals some pretty ugly things.
Hogans Hero
Super Reviewer
Little known biting satire on the horror of 'reality' TV which takes the format to its natural conclusion. Deserves a wide audience.
Gordon Anderson
Super Reviewer
A caustic and darkly funny jab at reality TV. It's amazing how much this looks like the real thing. Don't listen to the narrator- he lies to you. I love the way the final show seems to manifactured, that the truth almost seems irrelevant in the face of such perfect entertainment. This not only skewers reality TV, but phoniness in general. This is the best parody of reality TV I have ever seen.
Emily Armstrong
Super Reviewer
Series 7: The Contenders Quotes
| | |
| --- | --- |
| Dawn: | What did they call me on the news the other day? "Killer Momma?" |
| Dawn: | What did they call me on the news the other day? Killer Momma? |
| | |
| --- | --- |
| Narrator: | Season finale of The Contenders: Sudden death overtime! "Can Jeff really change from an ex-gay pacifist to a fierce contender? Does he have the guts to do battle with Dawn? And get the job done?" |
| Narrator: | Sudden death overtime! Can Jeff really change from an ex-gay pacifist to a fierce contender? Does he have the guts to do battle with Dawn? And get the job done? |