The Serpent and the Rainbow
(1987)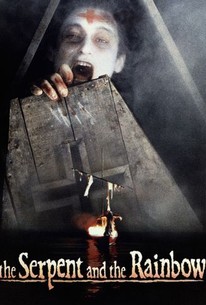 TOMATOMETER
AUDIENCE SCORE
Critic Consensus: Although it's occasionally overwhelmed by excessive special effects, The Serpent and the Rainbow draws on a chilling atmosphere to deliver a intelligent, politically informed story.
The Serpent and the Rainbow Photos
Movie Info
Somewhat based on the true-life experiences of ethnobotanist Wade Davis, this provocative horror outing is set in Haiti and offers a fascinating look into the voodoo cult and the making of zombies. Davis' book was a serious examination of the zombie phenomenon, but the film adds plenty of horror elements to sensationalize it. He was sent to Haiti by a drug company to see if there was a pharmacological explanation for the walking dead, but once there, he finds that the practitioners and the locals will do anything to keep him from learning their secrets.
Critic Reviews for The Serpent and the Rainbow
Audience Reviews for The Serpent and the Rainbow
½
A very subversive film for its time, "The Serpent and the Rainbow" deals with the real world of zombie culture in Hait,i and its folklore. Craven appropriates the culture for the film but stays very true to the legends of zombification which have floated around for hundreds of years. He threads through a storyline about a mad zombie priest and his many followers. The story also has an American scientist, played by Pullman, who tries to use a zombification powder for medicinal purposes. The story isn't all that horrifying, because the villain of the story isn't all that frightening. What he can do is very scary, and the hold he has over others is horrifying, but he himself is just an old man with limited power. What makes the film entertaining are all the hallucinations that Pullman has, including getting sucked into the ground and being controlled, even from far away. For that reason Craven's film still stands as a very frightening exploration of Haitian culture.
Spencer S.
Super Reviewer
When Bill Pullman is your most commanding presence, you can rest assured that the casting is pretty maladroit. In a precursor to the early 2000's torture porn, Pullman's scrotum is ruptured with a nail and aside from that unpleasant image, the film is piddling and not hair-raising in the least. Craven has always been an overpraised director of the horror variety and while the concept is brimming with occult potential, it is more suited to a documentary than a full-fledged chiller. To spice up the otherwise lumbering proceedings, Craven shoehorns a medley of hallucinations with corpse brides and reanimated zombies. None of these approach cohesion. All of the titillating genre elements are extraneous (the aforementioned dream sequences and a needless sex scene). In a career of monumental near-misses, 'The Serpent and the Rainbow' might be Craven's most bungled effort.
Cory Taylor
Super Reviewer
After directing some of the most legendary Horror films in the business, Wes Craven continues his streak of creepy horror films with The Serpent and the Rainbow, a film that is often overlooked. Using voodoo as his subject, Craven conjures a creepy horror film that has some intense moments and good scares. The Serpent and the Rainbow is a film that relies on its atmosphere to create its tension and steadily build up the horror. Set on a Haitian backdrop of Voodoo, and the undead, you get one creepy film. This is a solid offering from Wes Craven, and I thought it was a film that well crafted to bring on genuine scares. Bill Pullman and Paul Winfield were terrific in their roles, and I have to say, that this is one of the best roles that actor Bill Pullman has ever chosen. I think this is a terrific of horror cinema, and one that every Wes Craven fan should watch. A very creepy film with some terrific acting, make this a must horror film. An effective film, The Serpent and the Rainbow though has a few flaws which bring the film down a notch, but it's still good nonetheless. This is an awesome departure from Wes Craven's usual work, and overall is a solid and creepy horror film that will give you a few good chills. A terrific film, one that is underrated and quite possibly one of Wes Craven's best and overlooked films.
The Serpent and the Rainbow Quotes