Serving Sara
(2002)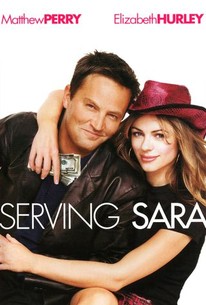 Movie Info
A process server makes an unusual alliance with a beautiful but devious woman in this comedy. Joe Tyler (Matthew Perry) is a former attorney whose career went bust when he picked up some clients who turned out to be associated with the Mafia. These days, Joe makes his living as a process server, who presents people with legal papers -- papers they would usually prefer not to get. One of Joe's fellow servers, Tony (Vincent Pastore), is trying to weasel him out of his job, and has starting tipping off Joe's targets before he can deliver their papers in order to get Joe in dutch with their boss, Ray (Cedric the Entertainer). Joe, however, is able to persuade Ray to give him another chance with a high-profile client, Gordon (Bruce Campbell), a wealthy Texas cattle baron who has decided to divorce his wife and business partner, Sara (Elizabeth Hurley), in order to marry another woman, Kate (Amy Adams). When Joe presents Sara with the divorce papers, she is shocked by the news, which would cost her her half of the Gordon fortune. After Joe gets carjacked and finds herself on the same bus with Sara, she makes him a deal: If he's willing to take back the papers, say he never presented them, and serve a divorce petition to Gordon first, she'll pay Joe an even million dollars. Serving Sara became the focus of some unexpected controversy during its production -- first when Matthew Perry took a brief leave from the production to enter a rehabilitation clinic to fight an addiction to painkillers, and later when Elizabeth Hurley's former boyfriend, Steve Bing, accused Perry of being the father of Hurley's child (a charge both Hurley and Perry denied, and was proven false by blood tests).
Critic Reviews for Serving Sara
Audience Reviews for Serving Sara
½
Serving Sara is a very easy going and charming movie. The two leading roles are played wonderfully by Matthew Perry and Elizabeth Hurley. Joe is a process server who meets Sara when he delivers divorce papers to her. Sara is chocked to know that her husband wants a divorce because she thought they were happily married. The papers say that she is about to lose everything in the divorce and she does not want to let that happen. I thought this movie is enjoyable because of these two talented actors and their good chemistry. Allthough this was set to be a great movie, it wasn't nearly as good as I'd expected it to be. It's sad because the story has much more potential.
Naughtia Nahazhina
Super Reviewer
It's a run of the mill comedy with a great cast. Matthew Perry didn't do many movies, but he was good at what he was type-cast to do. Bruce Campbell, Amy Adams, Vincent Pastore and Terry Crews all add to Serving Sara. It has Elizabeth Hurley. One of the most gorgeous women to grace the screen. Any movie with her in it is worth a star to its rating alone. The story isn't going to twist; it's there to keep the laughs going, and it's only kind of funny. If you're looking for anything with the slightest bit of depth, keep looking. Reginald Hudlin was a horrible director. He's doing TV now. That, and a script from the unbelievably bad writing team of Jay Scherik and David Ronn (I-Spy, Norbit, the Guess Who rewrite, National Security) and you get a surprisingly decent movie. If it's on TV and you just want something on TV, Serving Sara is worth a watch.
Jason Cenzano
Super Reviewer
The movie is about a process server called Joe (Matthew Perry) who is given the assignment to serve Sara Moore (Elizabeth Hurley) with divorce papers by her philandering Texan husband, but after he does it she convinces him to serve her husband instead and destroy her papers in exchange of one million dollars. Cedric the Entertainer is hilarious as Perry's boss in the film and Amy Adams plays the girlfriend. There were some laughs (including one gross out scene where Joe has to pretend he is a veterinarian and help a bull out with a little "problem" he is having). "Serving Sara" serves up plenty of Hurley eye candy.
Serving Sara Quotes
| | |
| --- | --- |
| Joe Tyler: | I'd like to introduce you two. This is the man who ran you over. And this is the man that you ran over. |