Session 9
(2001)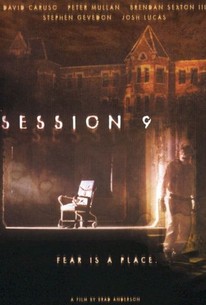 Movie Info
Writer/director Brad Anderson, known for whimsical romantic comedies like Next Stop, Wonderland, was inspired by the astonishing, creepy visage of an abandoned mental hospital in Danvers, MA, to make the intense psychological horror film Session 9. The film stars the redoubtable Scottish actor Peter Mullan (from Ken Loach's My Name Is Joe) as Gordon Fleming, a new father struggling to keep his asbestos removal company afloat. Desperate to bring in some money, the normally deliberate and careful Gordon gets the contract by promising that his company can clear out the creepy deserted building in a week's time. Assisted by his right-hand man, Phil (David Caruso), Gordon hires a crew and, pressed by the nearly impossible deadline, gets the hazardous work underway. But each man on the crew harbors a dangerous secret, and it's only a short time before the haunted atmosphere of the asylum -- where cruel and primitive means were used to control unstable patients -- begins to work its dark spell on them. Session 9 was one of the first feature films shot using Sony's 24P HD video, which shoots at 24 frames per second, like film, as opposed to the 30 frames per second of conventional video. The filmmakers used the same camera that George Lucas would later use to film Star Wars: Episode II. Using this technology, Anderson and director of photography Uta Briesewitz were able to produce the uniquely effective, deep-focus images in Session 9 using mostly natural light.
News & Interviews for Session 9
Critic Reviews for Session 9
Audience Reviews for Session 9
½
An ominous psychological horror that relies on an effectively creepy atmosphere, but it is a shame that the suspenseful plot lacks coherence and purpose, with many unnecessary strange moments only to create tension and an odd conclusion that is more a letdown than a nice payoff.
Carlos Magalhães
Super Reviewer
½
A group of contractors must remove asbestos from an abandoned mental hospital, but the environs start to take their toll on the group's leader. A profoundly atmospheric film, Session 9 begins creepily but eventually devolves into a kind of slasher film. Many of the first act set-ups go nowhere special, and I was left disappointed by the ultimate resolution. Horror films that spend more time on building the scenery than developing plot and characters don't do much for me, and while it's true that there are some interesting threads of characters here, I don't see anything fully developed. Overall, this is a middling horror film that will work for those who loved the original environment horror film, Halloween.
Jim Hunter
Super Reviewer
½
Well paced Psychological horror film, Session 9 is one of those horror films that takes time for the plot to unwind, but when it does, the film becomes intense, suspenseful and ultimately creepy. Supernatural elements are also combined to create a unique film. With a great cast, Session 9 is a well crafted horror film that should appeal to every horror fan. I've always loved haunted hospital films, and this film certainly delivers great tension and chills. Acting wise, the cast are great in their parts. Session 9 is one of those films that takes time to build up to the great climax and it is a well constructed film that definitely is original, eerie and successfully combines two genres of horror into one film. Director Brad Anderson's direction keeps you involved and though it may be slow, you just want to find out how this supernatural, psychological horror tale will end. I'm a big fan of haunted asylum films and other similar films. Fragile was such a film, and Session 9 remind me a lot of that film. Anderson definitely knows what makes a solid horror film, and his understanding of the medium is clearly apparent in the finished film. If you're looking for a well constructed horror yarn with a good cast, then give Session 9 a shot. This film definitely is among the best supernatural horror tales and it has a very good plot to keep you interested from start to finish. Although it has a slow buildup, there are plenty of things happening on-screen to keep you involved right up to the ending.
Session 9 Quotes
| | |
| --- | --- |
| Doctor: | [Simon] You can hear me. |
| | |
| --- | --- |
| Doctor: | You want to help her get better, don't you, Billy? We have to wake up Simon! |
| | |
| --- | --- |
| Mike King: | Satanic Ritual Abuse Syndrome. It was big in the '80s. |
| | |
| --- | --- |
| Mike King: | He came into her room at night wearing a black robe. He'd take her and drive her to a wooded area where her grandparents and her mother were, and they'd all have black robes on. They'd take them off and group orgies would ensue... and then they'd bring out the newborn. She was forced to watch as her mother would cut the babies heart out with stone dagger. She'd drink the blood; others eat the flesh. The grandfather and father would fuck her repeatedly. She was forced to have abortions and cook the aborted fetuses. |