Sette note in nero (Murder to the Tune of the Seven Black Notes)(The Psychic)
(1977)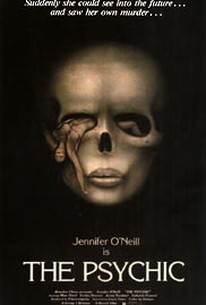 Movie Info
In this Italian thriller, a woman is tormented by morbid premonitions heralding the deaths of people she knows. As she tries to understand the terrifying phenomenon, she remembers her childhood when her mother jumped off a cliff and seemingly died. As the visions continue, she not only sees her own upcoming death, she also gains insight into the truth about her mother's demise. ~ Sandra Brennan, Rovi
Critic Reviews for Sette note in nero (Murder to the Tune of the Seven Black Notes)(The Psychic)
Audience Reviews for Sette note in nero (Murder to the Tune of the Seven Black Notes)(The Psychic)
Actually it is not exactly an horror movie, but rather more a thriller (or, better, a giallo). Visionary, tense, well acted (& dubbed), nice locations (villas, interiors, landscapes, cars, etc.), care to costumes and details, a nice 7 notes tune... it is a truly enjoyable little gem from the (not enough) celebrated Italian gore maestro. The plot itself, assuming it is possible to have such supernatural powers, develops convincingly and without too many disgusting bloody scenes . In some points (the visions, particularly the reversed statue) I had the feeling that Kubrick in Shining (1980) might have stolen something (MURDER...). Will it be possible? Oh, I was forgetting, the actress (O neill) is wonderful, and Ferzetti (Once upon in the West, On Her Majesty's Secret Service) is playing as well.
Cassandra Maples
Super Reviewer
despite all the zooms when she recognizes images, the fun of this movie is trying to piece together the heroine's vision before she does; and the end sequence is great; and both Marc Porel and his secretary show friendship and goodwill to the heroine that usually gets downplayed for the main plot
Adam Mahler
Super Reviewer
½
One of Fulci's last films that didnt involve copious amounts of gore and goo to get the point across. I'm surprised his career didnt turn out differently as he clearly shows he can handle a complicated plot expertly as writer and director instead of the mindless (albeit fun) stuff his name would become synonymous with. It's a bit slow at times but the last 30 minutes really makes up for it as the clues all start to come together to reveal who the killer really is.
A.D. Villarreal
Super Reviewer
Sette note in nero (Murder to the Tune of the Seven Black Notes)(The Psychic) Quotes
There are no approved quotes yet for this movie.