The Set-Up
(1949)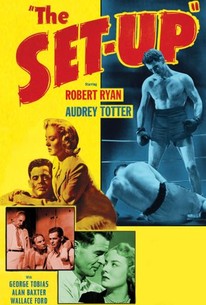 Movie Info
As shown by the clock face that opens and closes the film, The Set-Up takes place within a compact 72 minutes, with the action played out in "real time." Robert Ryan plays Bill "Stoker" Thompson, a washed-up boxer who refuses to give up his career despite the pleas of his wife Julie (Audrey Totter). There's little chance that he's going to win this evening's bout; still, Stoker's manager Tiny (George Tobias) has secretly made a deal with a crooked gambler (Alan Baxter). Stoker is to take a dive, a fact withheld from him until the fight is well under way. His last vestige of pride is aroused in the ring, but the story doesn't end there. The fight sequence is one of the most brutal ever filmed, with close ups of Ryan's pummeled face intercut with shots of screaming spectators in the throes of bloodlust. Adapted by Art Cohn from a narrative poem by Joseph Moncure March, The Set-Up is arguably Robert Ryan's finest starring film.
News & Interviews for The Set-Up
Critic Reviews for The Set-Up
Audience Reviews for The Set-Up
½
Playing in real time, The Set-Up is the story of a washed up prizefighter looking for one last shot at glory. According to IMDb, the screenplay was actually based on a poem about a black boxer named Pansy Jones. The author, Joseph March, was reportedly unhappy about his character being changed to Stoker Thompson, a white man. Unlike most films about boxing, the fight scenes here seem raw and unchoreographed. Robert Ryan (who, by the way, was a boxer at Dartmouth) is completely believable in his portrayal and director Robert Wise manages to make the dark tension of the piece tangible. You can almost feel the punches and smell the sweat.
Randy Tippy
Super Reviewer
Tough tight little noir. Lean in the best sense, not one shot is wasted.
a terrific stripped down boxing picture made in real time. robert ryan plays a fighter facing the end of his career. incredible fight scenes and beautifully rendered characters inhabiting their own little world. just great
Stella Dallas
Super Reviewer
The Set-Up Quotes
There are no approved quotes yet for this movie.