Setup
(2011)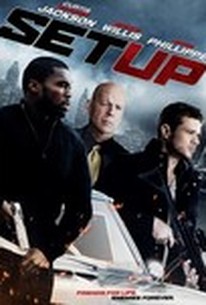 AUDIENCE SCORE
Critic Consensus: No consensus yet.
Movie Info
A group of friends become involved in a potentially deadly diamond heist.
Audience Reviews for Setup
½
Friends for life. Enemies forever. Not a great movie! The movie was a waste of time and i am really disappointed. I could describe this movie as a "wanna be movie"...the director wants to be Guy Ritchie but he is not...50 cent wants to be an actor but he is not, Ryan Phillipe wants to be a bad guy but he is not, because of his baby face...when you see Bruce Willis on the cover you expect him to be actually present in the movie but he is not...everything in this project is poor...i really gave it a chance and watched all 90 min but it was a waste of time. The act was too slow, it tried to build up characters but it failed...many things were simply not there as script and acting. I had hard time understanding the words of 50 cent, Ryan Phillipe was OK but this character was simply not for him...he matches other roles much better...Bruce Willis was OK too but he had a very small and insignificant role. A group of friends plan out a detailed heist that turns deadly when one betrays the other by taking off with the goods. Taking matters into his own hands, Sonny seeks out his revenge teaming up with the most dangerous mob boss in town to get back what is rightfully his. When he finally comes face to face with his longtime friend he will be forced to make a life changing choice.
overall, awkward is the best word to describe this disjointed and strained film.
Roy Gutteridge
Super Reviewer
Cast: Bruce Willis, Ryan Phillippe, 50 Cent, Jenna Dewan, Randy Couture, James Remar, Susie Abromeit, Jordan Trovillion Director: Mike Gunther Summary: A diamond heist goes horribly wrong, and the group of friends who sought to make a fortune must instead fight for their very survival. Bruce Willis, Ryan Phillippe and Curtis "50 Cent" Jackson bring the firepower in this thriller. My Thoughts: "This movie is a perfect example of being blinded by the actor's you may like/love and not looking too much into the story beforehand. Love Bruce, like Ryan, so obviously I would over look 50 Cent and watch the movie. Mistake of course. I don't even think 50 Cent was that bad in it (although his character isn't very believable) but he definitely isn't amazing either. Some should just stick to their music careers. Not all singer's and rapper's are meant to act. But in the end it was the script that flushed this film down the crapper. You are left to guess throughout the film on how these people became friends, why they turn on each other, and whatever else this film had going on in it. I seem to have forgotten. Which leaves me to my next comment, the film is completely forgettable and not worth taking a second glance at."
♥˩ƳИИ ƜѲѲƉƧ♥
Super Reviewer
Setup Quotes
There are no approved quotes yet for this movie.