Seven Beauties (Pasqualino Settebellezze)
(1976)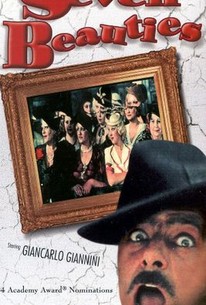 Seven Beauties (Pasqualino Settebellezze) Photos
Movie Info
Italian filmmaker Lina Wertmuller directs the black comedy Pasqualino Settebellezze (Seven Beauties). During WWII, Pasqualino Frafuso (Giancarlo Giannini) ends up lost in a dense forest along with fellow army deserter Francesco (Piero De Orio). After they witness a mass execution by German soldiers, Francesco admits his moral opposition to the Nazis and Pasqualino reveals his criminal past in a series of flashbacks. Back in Naples, he was known as "Pasqualino Seven Beauties," a petty thief who lived off the profits of his seven sisters while claiming to protect their honor at any cost. When Totonno (Mario Conti) pimps out his sister Concettina (Elena Fiore), Pasqualino kills him, chops up his body, and mails each piece across the country. He is then arrested and sent to a mental institution, where he commits sexual assault against another patient. Kicked out of the asylum, he is sent to fight in the army. The Germans capture him and he gets sent to a concentration camp. He then plots to make his escape by demoralizing himself in an attempt to seduce a German officer (Shirley Stoler). Seven Beauties was nominated for four Academy Awards in 1977, including Best Foreign Film.
News & Interviews for Seven Beauties (Pasqualino Settebellezze)
Critic Reviews for Seven Beauties (Pasqualino Settebellezze)
Audience Reviews for Seven Beauties (Pasqualino Settebellezze)
No doubt this was an inspiration for black comedies depicting the war in later decades. The two leads are absolutely hilarious in their mishaps in the midst of such a terrible conflict.
John Ballantine
Super Reviewer
½
What would you be willing to do to ensure your survival? Would you sacrifice your honor, your body, your soul? Would you murder? Is moral ambiguity permissable during times of war? The opening film footage of Hitler, Mussoulini, the Russian fronteir, and bombings juxtaposed against the narration of a litany of 'Oh Yeahs' provides a context for these questions. If you have prostiuted and murdered in order to live, is yours a life worth living? A brilliant and damning critique!
Stefanie C
Super Reviewer
½
Though the film gets sort of laborious, I appreciated Seven Beauties for constantly taking risks. It's worth it to check the movie out.
Andrew Fillmore
Super Reviewer
Seven Beauties (Pasqualino Settebellezze) Quotes
There are no approved quotes yet for this movie.