Seven Brides for Seven Brothers
(1954)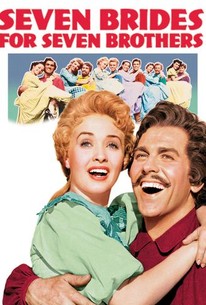 TOMATOMETER
AUDIENCE SCORE
Critic Consensus: Buoyed by crowd-pleasing tunes and charming performances, Seven Brides for Seven Brothers makes a successful transition from Broadway to screen that's sure to please the whole family.
Seven Brides for Seven Brothers Photos
Movie Info
Based extremely loosely on the Stephen Vincent Benet story Sobbin' Women," Seven Brides for Seven Brothers is one of the best MGM musicals of the 1950s. Most of the story takes place on an Oregon ranch, maintained by Adam Pontabee (Howard Keel) and his six brothers, played by Jeff Richards, Russ Tamblyn, Tommy Rall, Mark Platt, Matt Mattox, and Jacques d'Amboise (it is no coincidence that five of those six boys are played by professional dancers). When Adam brings home his new bride Milly (Jane Powell), she is appalled at the brothers' slovenliness and sets about turning these unwashed louts into immaculate gentlemen. During the boisterous barn-raising scene, the brothers get into a scuffle with a group of townsmen over the affection of six comely lasses: Virginia Gibson, Julie Newmeyer (later Newmar), Ruth Kilmonis (later Ruth Lee), Nancy Kilgas, Betty Carr, and Norma Doggett (yep, most of the girls are dancers, too). Yearning to become husbands like their big brother, they ask Adam for advice. Alas, he has been reading a book about the abduction of the Sabine Women (or, as he puts it, the Sobbin' Women); and, in order to claim their gals, Adam explains, the boys must kidnap them--which they do, after blocking off all avenues of escape. Vowing to remain on their best behavior, the boys make no untoward advances towards their reluctant female guests--not even during one of the coldest winters on record. Comes the spring thaw, the angry townsfolk come charging up the mountain, demanding the return of the stolen girls (who, by this time, have "tamed" their men). A happy ending is ultimately had by all in this delightful if politically incorrect concoction. ~ Hal Erickson, Rovi
Critic Reviews for Seven Brides for Seven Brothers
Audience Reviews for Seven Brides for Seven Brothers
It's great to watch this after so many years, this film is a remindeer to me that my obsession for films started very young and I would watch the same three scenes in this film every day as a kid. A musical with a love theme, yet perhaps not in it's traditional sense. The film does look dated now but still highly successful as a stage show. Some great songs (and a few less enjoyable ones too), along with some fun rivalry. An early performance from Russ Tamblin, but most noteable performances for this film of course, were Howard Keel and Jane Powell
Lady D'arbanville
Super Reviewer
½
People often think of the 1950s as just a repressed and conservative time in America, overlooking the fact that people were also quite odd and strange back then (watch a few episodes of the old Superman television series if you want further proof). Film-wise, the fifties were the heyday of both the western and the musical, so it's no surpise when someone decided to combine the two. Okay, so Seven Brides for Seven Brothers isn't your typical western, but even though there's no gunfighting in the streets, it embodies the western spirit of the old west pioneers. The fun and frolic begins when a bunch of farmer brothers decides to take themselves some wife-womenfolk type thinga-mabobs. With the help of eldest brother Adam's good young wife, the other brothers learn a little about manners and how to woo the ladies without offering them chaws of tobaccey. The music may not be all that memorable, but the great performances make up for that. It's alot of corny fun from the oddball fifties.
Devon Bott
Super Reviewer
½
It's certainly not the best musical around, but it does have some charm.
Tim Salmons
Super Reviewer
Seven Brides for Seven Brothers Quotes
There are no approved quotes yet for this movie.