Seven Chances
(1925)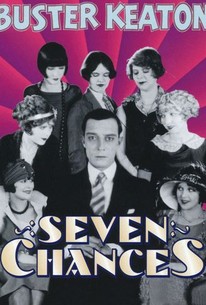 Movie Info
Told that he will inherit $7 million by 7 p.m. if he can get married in time, lovelorn lawyer Jimmie Shannon sets off on a wild bride-chase. The hilariously inventive comedy culminates with one of Buster Keaton's most renowned set pieces that finds him pursued through the streets of Los Angeles by a gaggle of wannabe-wives - as well as scores of massive, dislodged boulders.
Critic Reviews for Seven Chances
Audience Reviews for Seven Chances
½
This has to be one of the earliest examples of the modern genre "romantic comedy." Buster Keaton stars in and directs this film, which follows businessman Jimmie Shannon as he tries to win the affections of the woman he loves, while also trying to get his inheritance. Jimmie's uncle's will stipulates that Jimmie has to be married by the end of the day on his 27th birthday, and after being put off by his dream girl, Jimmie runs around town trying to find someone, anyone, to marry. This film was the basis for the impossibly annoying film "The Bachelor" and it's easy to see why they would remake it. This isn't one of Keaton's better films, as there aren't that many great stunts, and most of comedy revolves around a hoard of would-be brides that follow Jimmie around town. This is also his first film, that I've seen, that uses blackface, and horrible black stereotypes, which is uncomfortable to see. Other than those unfortunate scenes, it's another film that provides laughs.
Spencer S.
Super Reviewer
½
An absolutely hilarious comedy with great editing, score, framing and cinematography, even if the initial scenes in early Technicolor have not survived in such a good state - and it is really impressive to see so much action, thrill and energy in a movie made at that time.
Carlos Magalhães
Super Reviewer
It was a real joy to watch this at the local Cinematheque with lots of people laughing and enjoying this classic comedy. It is a premise that has been repeated many times since. Buster Keaton is Jimmie Shannon. A prologue was included in the showing. This prologue was shot with color tinting, but did not screen with most theatrical releases here in the states. In it Jimmie's longtime courting of Mary (Dwyer) is consistently met with cold feet and her dog coming between them. In the main film Jimmie and his buddy Billy (Barnes) are having difficulty keeping their financial firm in the black. An attorney (Snitz Edwards) must track down Jimmie to read his grandfather's will. Jimmie will receive an inheritance of 7 million dollars, IF he is married before 7 p.m. on his 27th birthday! Oh, look at that, today is his 27th birthday. He blunders through proposing to Mary and so Billy and the attorney tag along to the nearby country club to find a bride. They count 7 women lounging in the club, hence the Seven Chances. However, before it is all over Jimmie will have a large church full of women, including women spilling out all over the street outside, chasing him when they find out he will be a millionaire. There is a long, complex chase scene with lots of great visual gags and Keaton hurling himself from one attempt at escape to another. It's a riot. Will he make the deadline? Does he have the stamina? I am growing to really love Buster Keaton's craft as a comedian.
Byron Brubaker
Super Reviewer
Seven Chances Quotes
There are no approved quotes yet for this movie.