Seven Days In Utopia
(2011)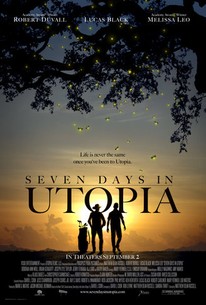 TOMATOMETER
AUDIENCE SCORE
Critic Consensus: Seven Days in Utopia finds a noteworthy cast struggling to engage with lackadaisical drama, overwrought themes, and a predictably staged narrative.
Seven Days In Utopia Photos
Movie Info
Seven Days in Utopia follows the story of Luke Chisolm (Lucas Black), a talented young golfer set on making the pro tour. When his first big shot turns out to be a very public disaster, Luke escapes the pressures of the game and finds himself unexpectedly stranded in Utopia, Texas, home to eccentric rancher Johnny Crawford (Robert Duvall). But Johnny's more than meets the eye, and his profound ways of looking at life force Luke to question not only his past choices, but his direction for the future. -- (C) Official Site
News & Interviews for Seven Days In Utopia
Critic Reviews for Seven Days In Utopia
Audience Reviews for Seven Days In Utopia
Cast: Lucas Black, Robert Duvall, Melissa Leo, Deborah Ann Woll, Robert Bear, Brian Geraghty, Madison Burge, Jerry Ferrera, Sarah Jayne Jensen, Joseph Lyle Taylor, Josh Painting Director: Matt Russell Summary: Talent can only get you so far. For golfer Luke Chisholm, that turns out to be Utopia, Texas -- where he's left stranded after blowing his pro debut. Luckily for Luke, a cagey old rancher enters his life there to change it -- and him -- forever. My Thoughts: "I am not a fan of Golf, nor do I enjoy watching it at all, well unless it's in a film with actor's I enjoy watching. The movie really doesn't have much of the game in the film. The movie is more about Johnny helping Luke find himself, faith, and to teach him that a game does not define him. The movie has drama, comedy, and a bit of romance (not much). The movie has some great actor's in the film and that is what caught my eye. They all put in good performances. Not one I would watch again, but not one I regret seeing either."
♥˩ƳИИ ƜѲѲƉƧ♥
Super Reviewer
Initially I had no interest in seeing this Christian-based film about golf. Mainly because I have never had any interest in the sport. To be blunt, I have always found it boring and with the fact I was never able to make it through that Shia LaBeouf movie "The Greatest Game Ever Played" I didn't think this one stood a chance either. I was partially right; by the time the last half hour of the film came around and it was as predictable as every other sports film I had completely lost interest. I imagined it might stand a chance of grasping my attention because I can always seem to find an interest in anything Mr. Duvall is playing in but this movie skews so closely to the archetypes of every inspirational sports film it is hard not to dismiss it. Sure, the film has a good message and I wouldn't discourage people showing it to their children, but as someone who has seen the story multiple times i at least expected some interesting characters along the way. Instead, even those are archetypes. Duvall as the ancient master who teaches the young student how to regain his way and stay on the right path. There is the innocent love interest that doesn't go anywhere and Melissa Leo seems to show up for no other reason than maybe she just wanted to be a part of the project. It is an admirable effort, but it is nothing spectacular and you can see where things are going as soon as Lucas Black wrecks his car in the small town of Utopia. It is nice to see a young, credible actor such as Black not forgetting where he came from and he does his best with what he is given here, too bad it's not much.
Philip Price
Super Reviewer
Seven Days In Utopia Quotes