La morte negli occhi del gatto (Seven Deaths in the Cat's Eye)
(1973)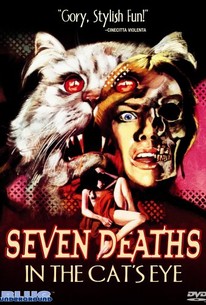 AUDIENCE SCORE
Critic Consensus: No consensus yet.
La morte negli occhi del gatto (Seven Deaths in the Cat's Eye) Photos
Movie Info
International sex symbol Jane Birkin (of BLOW-UP and Je taime... fame) stars as Corringa, a beautiful young girl who returns from a convent school to her familys ancestral castle. But within these walls seethes unspeakable evil, including religious fervor, depraved desires, and sudden, sadistic murder. Now, someone with a taste for terror is slaughtering the castles demented guests. Six have already met their deaths... and for delicious Corringa, the ultimate torment is still to come!
Critic Reviews for La morte negli occhi del gatto (Seven Deaths in the Cat's Eye)
Audience Reviews for La morte negli occhi del gatto (Seven Deaths in the Cat's Eye)
½
** out of **** Disappointing it is, to find a film as well-made yet frustratingly incoherent as Antonio Margheriti's "Seven Deaths in the Cat's Eye". I so desperately tried to be sympathetic towards the film, since on first glance it possesses all the bare essentials of the kind of flick that I'm almost guaranteed to be entertained by: excellent architecture in the form of a huge Gothic mansion, bloody off-screen (or on-screen, give or take) murder sequences, and highly stylized camerawork. To succeed, the film would either have to engage or provide a few memorable moments that we will take away from the experience; but alas, it fails to give us either of those things. It is a Giallo film; meaning that it's a mixture of brutal violence (although it's tame compared to some of the more classical Giallo stuff) and well-built tension. I don't know whether it's good or bad, but what I do know is that I've seen great Giallo films; and this isn't one of them. Here's the thing: the movie unwisely chooses story over dream logic, and cranks out a script that feels, shall I say, half-cooked. The story takes place in a little Scottish village, in a very big mansion; where a girl named Corringa (Jane Barkin) goes to stay for a while. It is there that her mother and the rest of the estate's inhabitants reside, and she tries to get acquainted with everyone as soon (and easily) as possible. The most interesting and peculiar member of the house that she meets is a man, James; who keeps to himself and stays out of the way most of the time, although he shows up places now and then. Overall, he probably talks to Corringa the most in the course of the movie; although he's not her only acquaintance. She's got plenty of cousins, aunts, uncles, and police officers to choose from before she closes in on a single friend. Since this is Giallo thriller, one might assume that it's a murder mystery. Indeed it is. The open frames depict a murder by switchblade; unseen, unless you count the fat cat (the titular cat, no less) that is the sole witness to the act. More murders are committed behind closed doors, and every time, it's the same thing; the cat sees everything, but is unable to communicate its findings to the human characters, who want to know what they don't even know the poor animal knows. It's a visual extravaganza of blood, violence, Gothic storytelling, and vampirism; and of course some other really weird stuff along the way. It will appeal to a certain audience for the plot elements alone; although I'm not seeing it. There is a good film -and a good story to go with it - to be found here, but I don't have a damn clue where or how to find it. The plotting is genuinely poor, the characters are boring (thanks, bad English dubbing!), and the whole thing just feels, dare I say it, boring. And given the kind of movie that we're talking about here, it really shouldn't be. I've said just about all I can in regards to what I didn't like about the movie, and while it may not seem like a whole lot, it certainly amounts for a heavy dose of appropriate criticism. But I think it's best if I try and move on to happier, more positive thoughts. I liked a lot of individual scenes. There's an intoxicating one where a character visits a foggy tomb in a graveyard. It's creepy and haunting; if not a bit underwhelming in both aspects. Nevertheless, I won't call it memorable; but it's still a well-made scene. But then again, this is a pretty well-made movie, unless you take the screenplay into account. It's often creepy and lush with atmosphere; I just wish it didn't feel so grossly underwhelming. I'm all for a lack of extreme violence and grotesque carnage in exchange for some nice suspense; but what the movie gives you is ultimately a few scenes of tension, a few instances of carnage, and a few shots of superior beauty. It isn't easy criticizing it; for I can neither label it as impressive or unimpressive. Let's just say that it left me wanting more; and we'll leave it at that. Margheriti has style as a filmmaker, and while this may not be a very good introduction to his lesser-known body of work, I'm still anticipating the moment when I finally catch up to it. There's plenty of good to be found here, and I appreciate the film; but well-made does not automatically mean well-written, and in this case, that fact shows. It's a film lacking logic (a pet ape, really? What for?) or sense in its narrative structure; although it has enough style to entertain a certain section of the Giallo fan-base. But it won't impress all; and it certainly didn't impress me. I have no problem with "Seven Deaths in the Cat's Eye", but at the same time I also have no reason to remember it.
Ryan Marshall
Super Reviewer
Fun if overlong Italian whodunit with a splash of gore and a host of eccentric characters. Very much of it's time. The cat is great.
La morte negli occhi del gatto (Seven Deaths in the Cat's Eye) Quotes
There are no approved quotes yet for this movie.