Seven in Heaven
(2018)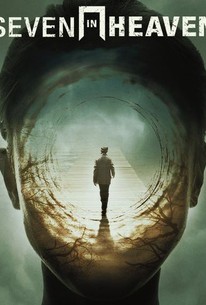 AUDIENCE SCORE
Critic Consensus: No consensus yet.
Movie Info
As part of a game, two teens walk into a closet but emerge to find an unusual alternate universe. They struggle to return to their own reality before the door closes for good.
Critic Reviews for Seven in Heaven
All Critics (1) | Fresh (0) | Rotten (1)
The film does a lot of telling but not very much showing. It asks the audience to fill in the blanks without giving them much reason to want to try.
Audience Reviews for Seven in Heaven
Trippy mind-bending movies are among my favorite types of film, but sometimes a good idea can be pushed too far and just become madness. Jude (Travis Tope) is a bullied kid, who makes the mistake of going to a house party at his friends house. Forced to play a game he doesn't want to, he loses and has to spend seven minutes locked in a closet with his bullies girlfriend. When the door opens, Jude and June (Haley Ramm) find themselves in another place, one that is very much like the one they just came from, but inherently different. Based on the butterfly theory, that for every action, somewhere there is an opposite and equal reaction, this closet leads these teens into alternate realities. At first the film is wildly original and seems to be going some place magical, however, with each jump things just get stranger and not for the better. When they finally ended up on the game show from hell, I'd pretty much had enough. Believe it or not, this film was billed as a horror movie, but there aren't any elements of that, and the film should have focused more on the scientific angle and the aspects of these alternate dimensions. Newcomer Travis Tope stars and does an adequate job, although I question his casting. Filmmakers cast Dylan Everett and Gage Munroe in backing roles, but then have the stars, their classmates, played by actors who are considerably older? Gage Munroe is a terrific actor, fits the age of the lead, and in my opinion would have made the film a lot more fun. The wildly different age differences didn't make much sense to me, neither did the ending. The whole film seemed to be building up to some angle centered around Jude's mother and teacher, but in the end, it is simply overlooked. This was a major theme of the film and one of the answers I was looking forward to. Having it white-washed just left a bad taste in my mouth. As a whole, Seven In Heaven was a good idea and has some elements of science fiction that I can't get enough of, but the lazy casting and systematic breakdown of the story just ruined the whole experience for me.
Todd Smith
Super Reviewer
Seven in Heaven Quotes
There are no approved quotes yet for this movie.