Seven Men From Now
(1956)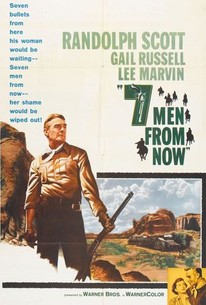 Seven Men From Now Photos
Movie Info
Randolph Scott trudges stoically through the West, hunting down the seven men responsible for the murder of his wife. As the film opens, we see him dispatching two of the miscreants during a driving rainstorm. The worst of the bandits is still at large, and a showdown is inevitable.
Critic Reviews for Seven Men From Now
Audience Reviews for Seven Men From Now
How can you not love Randolph Scott and Lee Marvin???
Randy Tippy
Super Reviewer
In "Seven Men from Now," Ben Stride(Randolph Scott) is on the hunt for seven men who robbed a Wells Fargo office in Silver Springs. He has already dispatched two of them by the time he comes across John(Walter Reed) and Annie Greer(Gail Russell) who are stuck in the mud on their way to California. Their voyage has not exactly gone as planned as he has had to take on odd jobs from time to time to earn money but their fortunes look up when Stride not only helps them get out of their predicament but also agrees to ride with them. His protection might come in handy as there are starving Indians on the warpath but not when encountering Masters(Lee Marvin) and Clete(Donald Barry) who are interested in the outlaws for a less charitable reason. "Seven Men from Now" is a very entertaining western that is a notch and a half above the usual fare due to imaginative camerawork, a scene stealing performance from Lee Marvin of barely controlled menace, how well information is dispensed and especially character development. Notice where the characters start out compared to where they finish. At first, Masters looks down on John Greer while staring lustily at his wife. And it would be interesting to think what Stride's path would be if he had not encountered the Greers.
½
Wonderfully lean, effective western. Good performances all around particularly Marvin and Gail Russell, whose worn appearance gives her character an extra layer of vunerability especially if you know the actress' personal history
Seven Men From Now Quotes
There are no approved quotes yet for this movie.