Seven Psychopaths
(2012)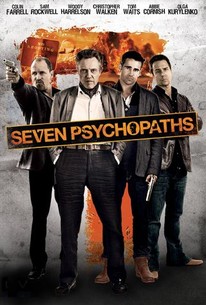 TOMATOMETER
AUDIENCE SCORE
Critic Consensus: Seven Psychopaths delivers sly cinematic commentary while serving up a heaping helping of sharp dialogue and gleeful violence.
Movie Info
Marty (Farrell) is a struggling writer who dreams of finishing his screenplay, "Seven Psychopaths". Billy (Rockwell) is Marty's best friend, an unemployed actor and part time dog thief, who wants to help Marty by any means necessary. All he needs is a little focus and inspiration. Hans (Walken) is Billy's partner in crime. A religious man with a violent past. Charlie (Harrelson) is the psychopathetic gangster whose beloved dog, Billy and Hans have just stolen. Charlie's unpredictable, extremely violent and wouldn't think twice about killing anyone or anything associated with the theft. Marty is going to get all the focus and inspiration he needs, just as long as he lives to tell the tale. -- (C) Official Site
News & Interviews for Seven Psychopaths
Critic Reviews for Seven Psychopaths
Audience Reviews for Seven Psychopaths
A funny dark comedy that has some very inspired moments, but McDonagh doesn't know exactly what to do with the material in his hands, and so he keeps pulling easy tricks out of his sleeves at the expense of a more elaborate structure.
Carlos Magalhães
Super Reviewer
½
A Irish screenwriter living in L.A. has a little bit of problem: he's trying to write a new script based on this half-formed idea that he's got, something about seven psychopaths, something, only he can't get any work done cause his friends and acquaintances keep incessantly bothering him with the minutiae of their lives. What minutiae? Well, that they're all practicing psychopaths is probably a good starting place. Round and round the mulberry bush then with this uber- black comedy from the same writer/director from In Bruges. It lacks the same punch, yet still is worthy of your time.
Kevin M. Williams
Super Reviewer
A boozy screen writer, his best friend and a professional dog-napper become the targets of a ruthless mobster when they unknowingly steal his shih tzu. The follow up to the brilliantly oddball In Bruges, Seven Psychopaths is clearly aiming more for the American mainstream, being very much in the Robert Rodriguez/Quentin Tarantino mold. It does have the same post-modern slant and zany humour of McDonagh's previous collaboration with Colin Farrell, who once again strikes up a winning partnership with his co-star, this time Sam Rockwell as the unhinged movie junkie desperate to re-enact his own revenge fantasy. As a whole it reminded me of Tarantino's early work with lots of Grindhouse style asides as they spew forth their ridiculous script ideas so it's not as original as In Bruges, but it's consistently entertaining and very funny and if you can imagine a version of Kiss Kiss Bang Bang parodying Pulp Fiction instead of Film Noir you're in the right ball park.
Seven Psychopaths Quotes
| | |
| --- | --- |
| Hans: | You might wanna stop drinking, Martin, if this is how you're going to behave. |
| Marty: | If this is how I'm gonna..? This guy... just telephoned a psycho killer, to come and psycho kill us! And this guy's doubting a life-long believe in the after life because of psychedelic cactus he just ate! And you motherfuckers are telling me to behave?! |
| | |
| --- | --- |
| Marty: | Friends don't make their friends die. |
| | |
| --- | --- |
| Billy: | You're fucked from birth. The Spanish got bullfighting. The French got cheese. And the Irish have alcoholism. |
| Marty: | And what do the Americans have? |
| Billy: | Tolerance. |
| | |
| --- | --- |
| Charlie: | Peace is for queers, and now you're gonna die. |