Seven Samurai (Shichinin no Samurai)
(1956)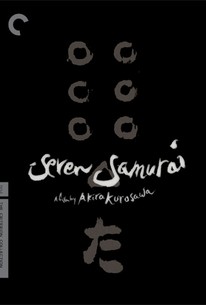 TOMATOMETER
AUDIENCE SCORE
Critic Consensus: Arguably Akira Kurosawa's masterpiece, The Seven Samurai is an epic adventure classic with an engrossing story, memorable characters, and stunning action sequences that make it one of the most influential films ever made.
Seven Samurai (Shichinin no Samurai) Videos
Seven Samurai (Shichinin no Samurai) Photos
Movie Info
Akira Kurosawa's epic tale concerns honor and duty during a time when the old traditional order is breaking down. The film opens with master samurai Kambei (Takashi Shimura) posing as a monk to save a kidnapped farmer's child. Impressed by his selflessness and bravery, a group of farmers begs him to defend their terrorized village from bandits. Kambei agrees, although there is no material gain or honor to be had in the endeavor. Soon he attracts a pair of followers: a young samurai named Katsushiro (Isao Kimura), who quickly becomes Kambei's disciple, and boisterous Kikuchiyo (Toshiro Mifune), who poses as a samurai but is later revealed to be the son of a farmer. Kambei assembles four other samurais, including Kyuzo (Seiji Miyaguchi), a master swordsman, to round out the group. Together they consolidate the village's defenses and shape the villagers into a militia, while the bandits loom menacingly nearby. Soon raids and counter-raids build to a final bloody heart-wrenching battle. ~ Jonathan Crow, Rovi
Critic Reviews for Seven Samurai (Shichinin no Samurai)
Audience Reviews for Seven Samurai (Shichinin no Samurai)
When it comes to all-time classic films, the title Seven Samurai gets thrown around a lot. Released in 1954, spawning many different versions as time went on, most notably the 1960 recreation known as The Magnificent Seven, Seven Samurai is not just your average epic. Taking its time to tell its brilliant, yet simple story to its audience, it was clear that director Akira Kurosawa expected a much maturer demographic. Released over 60 years ago, films of the 1940's and 1950's are very rarely talked about, with the exceptions of a few everlasting ones. People say that the likes of Citizen Kane or The Wizard of Oz are the best of the best from those decades, but not enough people talk about Kurosawa's masterpiece in Seven Samurai. Here is why I believe it is still one of the greatest films out there, even today. While it is without question that its 206 minute running time can be daunting to some viewers, it just goes to show that the attention span for cinema has dwindled over the years. Upon its initial release, films featured intermissions approximately halfway through, thus giving the audience a bit of time to let everything sink in. Today's films have to rush everything into a maximum of two hours or its audience will begin to lose interest. It is sad but true, with the exception of a few greats. Giving just enough screen time to each and every one of the main characters, this film balances its cast perfectly. Utilizing its action sequences just as things may start getting a little boring, Kurosawa knows exactly where and when to place every scene. I admire this film for every risk it takes, and every one that it doesn't. Although I mention that its pacing is slower due to the fact that it focusses on every character in order to make you care about them, Seven Samurai is also no stranger to exciting action sequences. Even though it is still brutal for the time, the shots composed throughout every epic action sequence feels rich and cared for. Not a frame of this film occurs without purpose and I cannot admire a film that does that enough. Seven Samurai makes you feel emotions that you never thought you would feel from watching a samurai epic. In the end, I was sucked in and put on the edge of my seat. Sure, watching this film nowadays, you can see the outcome from a mile away, due to the fact that many films have borrowed its story elements over the years, but for its time, the ending is simply beautiful. The plot to this film is simple. A group of bandits threaten to steal all of the rice being harvested by farmers. Afraid of losing everything, they recruit seven samurai warriors to train with them in order to strike when the time comes. With a plot like this, you are looking at a 90 minute running time for any average movie with this plot nowadays, but the fact that this film takes its time to flesh out every character and tastefully stage its action sequences so that you care about everything that is going on, makes for even even greater experience. There are endless things to love about this classic picture. In the end, this is a film that I can easily recommend to any cinema lover who doesn't mind a longer film. If you do not like sitting through lengthy films and you do not enjoy subtitles or cannot speak the languages spoken throughout the film, it may not be for you. That being said, this is a rich looking epic, with incredible direction, great performances for its time, a simple story told with vigour and care, as well as pacing that flies by if you are able to follow everything that is happening. I love this film from start to finish and it definitely deserves recognition as one of the greats. I quite simply do not have anything to complain about here. Seven Samurai is cinema at its best.
Kurosawa's perfected blend of action, humor, and pathos is on display in this masterpiece. Three and a half hours never felt so short and entertaining.
Kase Vollebregt
Super Reviewer
[img]http://images.rottentomatoes.com/images/user/icons/icon14.gif[/img]
Directors Cat
Super Reviewer
Seven Samurai (Shichinin no Samurai) Quotes
| | |
| --- | --- |
| Kambei leader of samurai: | This is the nature of war. By protecting others, you save yourselves. |
| | |
| --- | --- |
| Kikuchiyo would-be samurai: | You fool! Damn you! You call yourself a horse! For shame! Hey! Wait! Please! I apologize! Forgive me! |
| | |
| --- | --- |
| Heihachi amiable samurai: | I'm Heinachi Hayashida, a fencer of the Wood Cut School. |
| | |
| --- | --- |
| Gisaku village elder: | Find hungry samurai. |