The Seven Year Itch
(1955)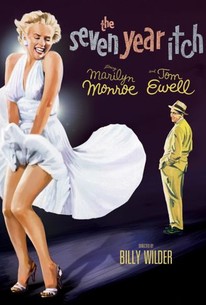 The Seven Year Itch Videos
The Seven Year Itch Photos
Movie Info
Like thousands of other Manhattanites, Tom Ewell annually packs his wife (Evelyn Keyes) and children off to summer vacation, staying behind to work at the office. This particular summer, the lonely Ewell begins fantasizing about the many women he'd foresworn upon getting married (in one of the fantasies, Ewell and Marguerite Chapman parody the beach rendezvous in From Here to Eternity). He is jolted back to reality when he meets his new neighbor--luscious model Marilyn Monroe. Inviting Monroe to dinner, Ewell intends to sweep her off her feet and into the boudoir. Things don't quite work out that way, thanks to Ewell's clumsiness (and essential decency) and Monroe's naivete. Still, Ewell becomes convinced that his impure thoughts will somehow be transmitted to his vacationing wife and to the rest of the world, leaving him wide open for scandal and ruination. In the original play, the husband and the next-door neighbor did have an affair, but both play and film arrived at the same happy ending, with Ewell and his missus contentedly reunited at summer's end. Featured in the cast of The Seven Year Itch are Robert Strauss as a lascivious handyman, Sonny Tufts as Evelyn Keye's former beau, Donald MacBride as Ewell's glad-handing boss, and veteran Broadway funny man Victor Moore in a cameo as a nervous plumber. ~ Hal Erickson, Rovi
Critic Reviews for The Seven Year Itch
Audience Reviews for The Seven Year Itch
½
Tom Ewell plays a Walter Mitty-ish everyman/married/schmuck who fantasizes, as he should, about the bombshell living upstairs from him: Marilyn Monroe. "Man, would I like ... her ... but I'm married!" And that's his entire character arc. Marilyn, for her part, simply shows up, wearing less and less, pouting her lips every so often. Her job is to be desirable and not to be cheap about it, which is tough to do. But that's the whole movie. Not a lot of craft here. If you like looking at Marilyn, then this is for you otherwise ... meh. Or look for The Secret Life Of Walter Mitty.
Kevin M. Williams
Super Reviewer
½
An insufferable comedy whose sense of humor is tremendously unfunny and obvious while Ewell is unbearable with his expository babbling and his character's stupid imagination - and the movie would have never become a classic if it weren't for that one famous scene only.
Carlos Magalhães
Super Reviewer
A man whose wife is away for the summer fantasizes about the girl who lives upstairs. Marilyn Monroe was obviously beautiful, glamorous, and altogether physically admirable, but she wasn't much of an actress. I find it difficult to believe that this character is so naive to fail to see Richard's attraction to her, so much so that she would jump atop the random subway vent. The character Monroe creates is perplexing because she has moments of profound insight at the end but an utter blindness throughout most of the rest of the of the film, and in the hands of a better actress, we might be able to discern a clear choice about the character's perceptions. Tom Ewell handles his many soliloquies well, but these speeches comprise far too much of the film. I would have thought that a director as good as Billy Wilder would have been able to show much of what was told in these parts of the film. Overall, this classic was disappointing, and I'm still looking to see what it is about Monroe that garners such universal acclaim.
Jim Hunter
Super Reviewer
The Seven Year Itch Quotes
| | |
| --- | --- |
| Richard Sherman: | Oh no. Not today. |
| | |
| --- | --- |
| The Girl: | Don't ever be sorry |
| The Girl: | Don't ever be sorry. |
| | |
| --- | --- |
| Richard Sherman: | Miss Morris, I'm perfectly capable of fixing my own breakfast. As a matter of fact, I had a peanut butter sandwich and two whiskey sours. |
| | |
| --- | --- |
| The Girl: | Hey, did you ever try dunking a potato chip in champagne? It's really crazy! |