The Seventh Sign
(1988)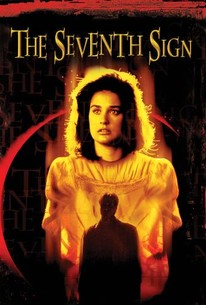 Movie Info
This horror thriller is based upon the final chapter of the Bible and centers upon Abby Quinn, a pregnant woman living in Venice, California who leases her garage apartment to mysterious David, who seems to be trying to claim the soul and the life of her unborn child. Little does she knows that he is Christ incarnate and has come to open each of the seven seals and release upon the wicked world the prophesied disasters. He has already broken six seals and now with Abby's baby prepares to break the seventh. Meanwhile, David is stalked by the mysterious Father Lucci who has more than a passing interest in Apocalyptic prophesies.
Critic Reviews for The Seventh Sign
Audience Reviews for The Seventh Sign
½
David Bannon: Remember it all, write it down, tell it; so people will use the chance she has given them.  "An ancient evil has been awakened and there is nothing you can do to stop it... except pray" The Seventh Sign is a horrible and dumb religious based thriller. It is kind of packaged as a horror film, but there is nothing about it that is scary or seems to try to be scary. The scariest thing about it is the bad performance from Demi Moore and the garbage dialogue you have to sit through. I thought, at the least, this would be a fairly interesting movie. It's about the apocalypse and takes its plot directly from the Bible; obviously it takes some liberties, but it should still be interesting. But no, it is just an awful, awful movie.  Demi Moore plays an expectant mother who has already lost one baby during pregnancy in the past and she isn't about to lose another one. Then a weird guy moves into their garage and she starts getting very suspicious of him. Then a bunch of crazy end of the world shit starts happening and I could not have been less interested.  This movie doesn't seem to really try to do anything that could relatively be called interesting. It's all so dull; from the performances to the dialogue to the characters. The 90 minute run time felt like 190 minutes. This movie really isn't worth a look. Don't let the plot description lure you in because the plot description is the best thing about it.
Melvin White
Super Reviewer
Could Demi Moore's coming childbirth have something to do with the coming apocalypse? The signs seem to point to just that ... all seven of 'em! Not bad exactly, but not exactly good either.
Kevin M. Williams
Super Reviewer
Oh man this was terrible. God sure goes through a lot of trouble to end the world for demi moore to just painlessly give her life to her baby to save mankind. For no reason the 'Guf' becomes magically full again, and that's that. It started with potential and by the end it felt like the filmmakers had to end it and make it a happy ending when it really shouldn't have.
Curtis Lilly
Super Reviewer
The Seventh Sign Quotes
There are no approved quotes yet for this movie.