The Seventh Victim
(1943)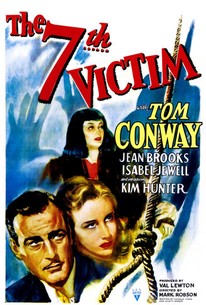 The Seventh Victim Photos
Movie Info
Producer Val Lewton once more utilized leftover Magnificent Ambersons sets for his psychological horror piece The Seventh Victim. Kim Hunter arrives in New York's Greenwich Village in search of her errant sister Jean Brooks. Gradually, the naive Hunter is drawn into a strange netherworld of Satan worshippers. The story is a bit too complex for its own good (especially with only a 71-minute running time to play with), but editor-turned-director Mark Robson and screenwriters Dewitt Bodeen and Charles O'Neal keep the thrills and shudders coming at a satisfying pace. Lewton regular Tom Conway offers his usual polished performance, while veteran character actresses Isabel Jewell and Evelyn Brent look appropriately gaunt and possessed in the "cult" sequences.
News & Interviews for The Seventh Victim
Critic Reviews for The Seventh Victim
Audience Reviews for The Seventh Victim
a brilliant dark mystery from producer val lewton, this was director mark robson's first film. it's a rather obvious inspiration for rosemary's baby with a shower scene that looks awfully familiar as well. with a nihilistic tone and a shocking final scene, it's a wonder this film ever got made in hollywood. one of the great unseen thrillers from the golden age, starring beaver cleaver's dad and zora from planet of the apes!
Stella Dallas
Super Reviewer
The 7th Victim doesn't sound like much on paper but viewing it is an entirely different matter. It's a precursor to Rosemary's Baby, The Third Man and has has a shower scene that... well, just see it for yourself. One of Val Lewton's more impressive accomplishments. The 7th Victim also has a great cast that compliments is eerie photography very well. It gets its point across in its 71-minute running time but oddly leaves you wanting just a little bit more. It also serves as proof that Lewton never really got his due, but was way ahead of his time...
Michael Gildea
Super Reviewer
This movie is predictable and unscary, but there are some good scenes too. This movie's not bad, but it's not good either.
The Seventh Victim Quotes
There are no approved quotes yet for this movie.