The Severed Arm
(1973)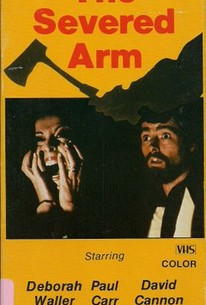 AUDIENCE SCORE
Critic Consensus: No consensus yet.
Movie Info
When a deadly cave-in traps a group of men, they are driven to remove and eat the arm of one of their companions. Many years after their timely rescue, the past comes back to haunt the members of the expedition when they begin to fall victim to a deadly murderer.
Critic Reviews for The Severed Arm
All Critics (3) | Fresh (2) | Rotten (1)
This was a mostly dull watch for me but I was able to appreciate some of the campy elements...
There's an ample amount of blunt brutality on display, and a solid twist on who the killer turns out to be, marking The Severed Arm as a rather intriguing deep cut when discussing the beginnings of horror's more prolific subcategorizations.
For those who get off over weird films, this one should be appetizing.
Audience Reviews for The Severed Arm
½
This might be 1 of those movies you consider it's so bad it's good movie but I considered it to be almost boring.I kinda figured everything out in the beginning.The only thing I didn't figure out was who the killer was.The acting is terrible & the movie is just slow.The best thing about The Severed Arm was Marvin Kaplan who I found funny as Mad Man Herman The DJ but I'm also a big fan of Alice the TV show where he plays Henry the telephone repairman
Brody Manson
Super Reviewer
½
Drive-In Swill for sure. This was the second feature in a Grindhouse Double Shock Show, which I purchase from www.oldies.com they have a great catalog and is free when you request it from there web site. Anyway this movie starts with men exploring a cave when one of the not so smart fellows starts banging on the beams for a rock sample, hello, are you sure you want to do that. Seconds later the roof caves in and there trapped, when asked how long do you think it will be before anyone starts looking, well were not supposed to be back for 2 weeks one says. Next thing we are lead to believe that 2 weeks has passed and there running out of food, so they decided to draw straws to see who there going to eat, Straws hell, I'd be looking at the guy who was tapping on the beam. Well they have there victim and they cut off his arm only to be found seconds after cutting off his arm. That would be my luck! Well next thing we know 5 years pass and guys from that mining weekend are getting the axe in the arm treatment one by one. A great revenge film. The ending holds a surprise that I will not give away. Its cheap enough to buy and enjoy two movies for less then the price of one. 2 1/2 stars close to 3.
Bruce Bruce
Super Reviewer
An interesting movie! Starvation. Trapt. Enclosed in a dark, remote place. Hmmmm. It's quite interesting what one may think, and do, in order to survive.
The Severed Arm Quotes
There are no approved quotes yet for this movie.