Severed Ways: The Norse Discovery of America
(2009)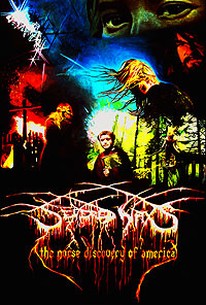 Severed Ways: The Norse Discovery of America Photos
Movie Info
In the 11th century, Vikings, Indians, and Irish monks collide on the shores of North America in a historical epic adventure of exploration, personal glory, and religious dominance. Abandoned by a Western exploration party and stranded in the New World, two lone Vikings wade through a grand primeval landscape, struggling for survival while still in the grip of their Norse ways. An impressive DIY epic, "Severed Ways" features a frosty black-metal soundtrack, including Burzum, Morbid Angel, Judas Priest and Dimmu Borgir.
News & Interviews for Severed Ways: The Norse Discovery of America
Critic Reviews for Severed Ways: The Norse Discovery of America
Audience Reviews for Severed Ways: The Norse Discovery of America
½
"Severed Ways" is an almost entirely wordless long-form video set to Metal and Goth music. It tries to imagine what it must have been like to be a Norseman exploring North America in 1000 AD. Writer/director Tony Stone (who also plays the lead role) appears to know a lot more about music than filmmaking, screenwriting or acting. Mostly what you get is interminably long scenes depicting such things as the building of a house. There are also many endless sequences depicting our two Norse heroes walking through the wilderness. One thing the film does do is evoke a mood. You really do feel like it's 1000 AD and you're in a forest. The film does get more interesting as it goes, with our Noresemen encountering two Christian monks and then a couple of natives. But as soon as something interesting starts to happen in these storylines, Stone reverts to another panoramic nature sequence. He seems to be allergic to thought. It's too bad, because I get the sense that he's got some interesting ideas somewhere underneath all that hair.
William Dunmyer
Super Reviewer
Severed Ways: The Norse Discovery of America Quotes
There are no approved quotes yet for this movie.