Sex and the City
(2008)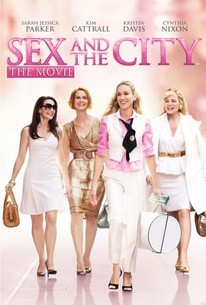 Movie Info
The hit cable series Sex and the City catwalks its way onto the big screen in this feature-film continuation that fans all over have been clamoring for. Sarah Jessica Parker returns once again as Carrie Bradshaw, the style-maven journalist whose romantic exploits were the key focus of the show. Also reprising their roles are Kim Cattrall, Kristin Davis, and Cynthia Nixon, with the series' executive producer Michael Patrick King taking on writing and directing duties. Several years have passed since viewers last saw Carrie and company, though she's still involved with Mr. Big (Chris Noth) and completely consumed by her obsession for name-brand accessories. Meanwhile, Miranda is adjusting to married life and motherhood, Charlotte is still clinging to her dreams, and Samantha and handsome, steely eyed TV star Smith Jerrod (Jason Lewis) are now living together out in L.A. Of course, when the girls all come together, it's just like old times. Dreamgirls' Jennifer Hudson co-stars as Carrie's assistant. ~ Jason Buchanan, Rovi
News & Interviews for Sex and the City
Critic Reviews for Sex and the City
Audience Reviews for Sex and the City
In its transition to the big screen, the long-running HBO series gives birth to an endless and uneven movie, and while the TV stories of these four women living for sex and fashion in the Big Apple could be appealing, here the characters seem only shallow, stupid and vulgar.
Carlos Magalhães
Super Reviewer
The girls are back together 4 years after the TV series. There's lots of drama - wedding, affair, baby. Lots of fab shoes and clothes. Makes you appreciate your loved ones and friends. Even if you haven't seen the TV series it is still a great movie about love, labels and friendships. Good cast and plot. I'd marry Big for that closet! Charlotte is my favourite character and her daughter Lily is adorable.
Candy Rose
Super Reviewer
½
Before talking about the film itself, some understanding of the HBO series is required. There is not a hope in hell that this film could stand on its own. When the TV show was good, it was as good as anything on TV, but when it was bad, it was as bad as anything. In the good, I classify the moments that made me think, and in the series' early years, I thought a lot. But as the series wound down its sixth and final season, it had changed. It had gone from the story of four relationship anti-heroes to a soap opera. Charlotte ran out of storyline after Season 3, when she left Trey and married Harry. The will-they-or-won't-they Carrie-and-Big story wore out well before the series ended. Even sexaholic Samantha settled down in the end, surviving a brush with breast cancer and moving in with her boy toy. The only storyline that was still compelling, in the end, was Miranda and Steve, in my opinion, because it was the most honest. It kind of stole the series away from now-Executive Producer Carrie Bradshaw... I mean, Sarah Jessica Parker... So, what's left in the movie? Obviously, wedding bells for Carrie and Big. Charlotte and Harry have given up on conceiving, but there might be a surprise in the works; Steve breaches Miranda's trust and puts their marriage on the rocks; and Samantha is exiled to California with her lover Smith Jerrod, whose acting career is taking off. Other than the Miranda-and-Steve storyline, the film gives fans more of the same sap from the final seasons, with none of the spunk the early episodes provided. At a butt-numbing two-and-a-half hours long, you'd expect more than Charlotte's dilemma of whether or not to run while she's pregnant... or yet another commitment-phobic Carrie and Big meltdown... or several minutes of shrieking hellos each of the many times Samantha returns to New York... Broken into half-hours, you could consider the film a short-season story arc, like five bonus episodes; as a feature film, however, it's hard to get through in one sitting. It effectively closes the loop on the story that came to dominate the series, but with that focus, the richness of the gals' contrasting sex lives is completely lost. Then again, as one mega-fan interviewed before the premiere of the reportedly worse second SatC film put it, "Of course I'm happy. I get to see all my friends again!" My girlfriend maintains that films like this shouldn't even be reviiewed, because they aren't meant to be treated as equals. They're cash-ins for the fans to get excited about, and watch communally, critics be damned. To a point, I agree... but if you're paying the same price to see this as you would any other movie, it should be as good as what you would've spent the money on instead. It's not. A shorter, less-indulgent film would've been better, but Sex and the City wasn't talking to the average moviegoer. This film is strictly for the fans.
Daniel Perry
Super Reviewer
Sex and the City Quotes
| | |
| --- | --- |
| Samantha Jones: | First not smoking in bars, whats next, no fucking in bars? |
| | |
| --- | --- |
| Carrie Bradshaw: | My Zen teacher also said the only way to true happiness is to live in the moment and not be worried about the future. |
| | |
| --- | --- |
| Carrie Bradshaw: | So what are we going to do? Sit around bars, sipping Cosmos and sleeping with strangers when we're eighty? |
| Carrie Bradshaw: | So what are we going to do? Sit around bars sipping cosmos and sleeping with strangers when we're eighty? |