S.F.W.
(1994)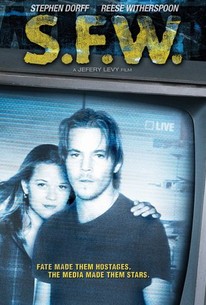 Movie Info
In these days of talk shows and tabloids, an ordinary person facing an extraordinary circumstance stands a real chance of becoming a national celebrity. If that person happens to be young and rebellious, he or she could become a cultural icon. Such is the premise of this dark, satirical drama. Cliff Spab (Stephen Dorff), like many his age, is sick to death of his boring small-time, suburban life; he wonders if his life has any purpose or intrinsic value. When young Cliff and his friend head into the local convenience store to get some beer, they do not expect to find themselves taken hostage by terrorists. These terrorists have video cameras as they want their cause to be aired on national TV. The boys and three other customers are held for 36 days. Except for Spab and rich-girl Wendy (Reese Witherspoon), all of the hostages are killed. Spab becomes a cult-hero because he resists the terrorists with his personal motto, "So f*cking what." S.F.W. becomes the new national slogan and appears everywhere, from T-shirts to coffee mugs.
Critic Reviews for S.F.W.
Audience Reviews for S.F.W.
Stephen Dorff is so so cool in this. I have it on v.h.s but if you get chance to see it i suggest it. Great soundtrack too with an original storyline something that is very rare these days
S.F.W. Quotes
There are no approved quotes yet for this movie.