Shaan
(1980)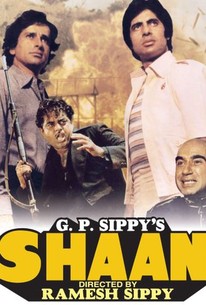 AUDIENCE SCORE
Critic Consensus: No consensus yet.
Movie Info
Shiv Kumar is a responsible man who takes care of his wife and children, and devotes himself tirelessly to his job as a police officer. He also lives with his two directionless brothers, Ravi and Vijay, who eek out a living as con-men. Everything changes, however, when Shiv is killed. Angry and broken hearted at the loss of their brother, Ravi and Vijay turn over a new leaf, giving up their waywardness in order to hunt down the man who took Shiv's life. What they find, however, might be even more than these two ruthless men can handle.
Critic Reviews for Shaan
There are no critic reviews yet for Shaan. Keep checking Rotten Tomatoes for updates!
Audience Reviews for Shaan
Yamma Yamma kesa hasin khoobsurat sama - The great R.D.Burman::::Today no one remembers whom Rahul Dev Burman had to thank his Career::: The Bollywood Comedy King:: Late Mehmood!
My fav song in the Movie stays
Naam Abdul he mera with Mazhar Khan and Mohd Rafi s voice. What a combination.
I like watching Amitabh old Movies, but he should now retire. Amitabh had a Style .....Once upon a time.... but he has lost that touch and now he is just an old man who just doesnt want to retire, I just shake my head everytime when I see him Dancing with young girls nowerdays. Shaan is not a bad Movie, it has a tiny bit of everything but my Big complain it has a lots of Villain talking Nonsense.
I have never saw a Movie with a Villain talking like a Parrot! I just forwarded the part every time Kulbushan appeared on Screen (who played Villain, mostly threatning with his idiot Buttons. If I push this Button and push that Button....*roll eyes* annoying) Jesus Christ what did they think when they wrote the script for the Villain anyway?
The other thing what I even noticed the Song Scene of Yamma Yamma, what the makers of shaan wanted couldnt exactly manage, but in Sholay there was this touch of an Idea I could see in the song "Mehbooba Mehbooba) I thought oh right something similar. Sippy managed that Song Scene Perfect and atleast there was a Villain with real threats a NO BUTTONS in sholay. Thank you for that Sippy.
I chuckle with the thought if someday with all his "dance moves" the 70 years old Amitabh`s dentures don't tilt drop down.
Shaan Quotes
There are no approved quotes yet for this movie.