Shadow Dancer
(2013)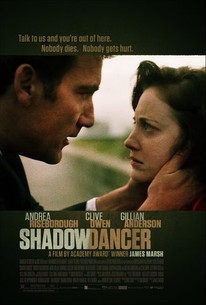 TOMATOMETER
AUDIENCE SCORE
Critic Consensus: A tense, thought-provoking thriller, Shadow Dancer is bolstered by sensitive direction from James Marsh and a terrific performance from Andrea Riseborough.
Movie Info
Single mother Collette McVeigh is a Republican living in Belfast with her mother and hardliner IRA brothers. When she is arrested for her part in an aborted IRA bomb plot in London, an MI5 officer (Mac) offers her a choice: lose everything and go to prison for 25 years or return to Belfast to spy on her own family. With her son's life in her hands, Collette chooses to place her trust in Mac and return home, but when her brothers' secret operation is ambushed, suspicions of an informant are raised and Collette finds both herself and her family in grave danger.(c) Magnolia
News & Interviews for Shadow Dancer
Critic Reviews for Shadow Dancer
Audience Reviews for Shadow Dancer
½
A captured IRA operative must decide to cooperate with a MI5 officer and betray her family or risk imprisonment. A slow, stolid, essentially British film, Shadow Dancer is remarkably predictable. Each choice is explored in stereotypical fashion: the MI5 agent talks about the futility of violent resistance and the IRA leverages nationalistic and family loyalty. The performances are good but not extraordinary. Clive Owen is as intense as ever, and Andrea Riseborough is occasionally too stoic to read but not dynamic enough to be worth caring about. Overall, if there were some surprise at the end, I might look more favorably on the film.
Jim Hunter
Super Reviewer
½
An uninteresting drama that lacks any surprises and whose bland approach makes it emotionally distant and boring, with a plot that drags, characters who are hard to care about and scenes that should be suspenseful but only feel tedious.
Carlos Magalhães
Super Reviewer
½
A slow-paced, though effective look at a member of the IRA (Andrea Riseborough) and how she is forced into a deal with a sympathetic MI5 agent (Clive Owen) to give information to the agency on her family who is involved in the terrorist organization. Definitely not a film for everyone, but ultimately this is a movie I respect tremendously as it goes for realism over excitement, a risk given the nature of these movies and how many directors would have opted for the high-drama and more explosions option instead to please a wider audience. Instead, director James Marsh tells this story straight, and the result is an effective, interesting look on a spy and how she must keep her cover or risk losing everything in the process, but still struggles with feelings of betraying her family. Riseborough and Owen are both fantastic, and the film is a success given the acting coupled with extremely good writing and directing.
Dan Schultz
Super Reviewer
Shadow Dancer Quotes
There are no approved quotes yet for this movie.