Shadow Puppets
(2007)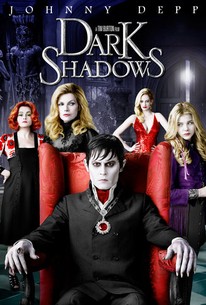 AUDIENCE SCORE
Critic Consensus: No consensus yet.
Movie Info
Eight people awake in an abandoned asylum without any previous memories of their whereabouts. They soon discover they were subjects of an experiment gone haywire. The experiment was intended to erase bad memories, but accidentally released a monstrous, blood-thirsty entity within the asylum. As they piece together their memories, a vicious Shadow Creature stalks them, threatening their lives from the darkness.
Critic Reviews for Shadow Puppets
There are no critic reviews yet for Shadow Puppets. Keep checking Rotten Tomatoes for updates!
Audience Reviews for Shadow Puppets
It's as if the makers of this film read a horror textbook, and then attempted to distil it, there's so many horror clichés; the abandoned hospital/asylum, selective amnesia in victims, a faceless, shapeless monster, people who disbelieve what others say they see because "it's crazy" despite the improbability of the original situation, doors that won't open until the last minute, copious blood with no bodies.. I could go on. But does the inclusion of those things make this a bad horror film? No. In fact, some of them could've made it a very good film. Instead, it's things like the writing and dialogue which makes this a bad film. The characters have up to three personality traits each; Amber is both crazy and horny (she's a nymphomaniac, you know), the Blalock character is both bossy and caring, and both of the black guys are violent, with one also being sexist and a right asshole (and the other dying too quickly for us to gauge anything else). This perhaps explains why some of them sometimes feel the need to state the obvious in the most obvious way possible. The actual plot as it unfolds isn't much better, it's pretty dull - but it could've worked better even without a major re-write if the characters had only been a bit more realistic and less like cardboard cut outs trying (and failing) to represent a 'cross-section' of society.
Really don't have much to say about this one other than it was just a B-horror flick that somehow got into our Netflix queue. Both the plot and acting were rather lame and yet it still managed to be more suspenseful than 1408 and The Number 23.
½
Very unusual. Gets you mind thinking in ever way.
paganchild1979 pc79
Super Reviewer
Shadow Puppets Quotes
There are no approved quotes yet for this movie.