Shadowboxer
(2005)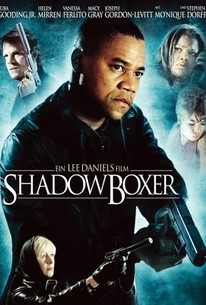 TOMATOMETER
AUDIENCE SCORE
Critic Consensus: With random characters and a preposterous plot, this bizarre thriller might leave you with your mouth hanging open in disbelief.
Movie Info
A late-career change of heart leads to a dangerous life on the run for two seasoned assassins whose complex relationship masks a dark past in director Lee Daniels' pulpy film noir. When Mickey (Cuba Gooding Jr.) was just a child, his abusive father savagely murdered the young boy's mother shortly before being gunned down by Rose (Helen Mirren), Mickey's stepmother. Twenty years later, Mickey and Rose are not only working together as hired killers, but they have grown to become lovers as well. When Rose discovers she is dying of terminal cancer and becomes addicted to morphine, her conscience soon prompts her to reevaluate her murderous ways. Assigned the task of taking out Vickie (Vanessa Ferlito), the wife of local crime boss Clayton (Stephen Dorff), Mickey and Rose are unable to complete their mission upon discovering that Vickie is pregnant. With the tragedy of the past threatening to lock Mickey, Rose, and their reluctant charge into a tragic cycle of death and deceit, the reluctant killers attempt to make amends for their violent past by protecting Vickie's unborn child and allowing Rose one last chance at redemption.
News & Interviews for Shadowboxer
Critic Reviews for Shadowboxer
Audience Reviews for Shadowboxer
Two hired assassins help raise their mark's daughter while being pursued by her sociopath boyfriend. Lee Daniels's, the director behind Precious, debut is an attempt at a thriller, but it's in the guise of an art film with all of the pretension and none of the art. There are long sequences during which the actors emote and look vaguely troubled, and the stylized violence that is supposed to look cool, an imitation of Tarantino. Even the characters are reminiscent of Tarantino, and Daniels's addition is a unmentioned and unexplained mismatch of romantic couples. The 100-pound Joseph Gordon-Levitt is paired with the ... uh ... over-100-pound Mo'Nique, and the thirty-eight-year-old Cuba Gooding Jr is paired with sixty-one-year-old Helen Mirren. The latter match is explained by an odd step-Oedipal complex, but suffice it to say that I think these matches are Daniels's attempt at liberal multiculturalism, saying that love transcends looks, age, and race, but it all comes at the expense of verisimilitude. I did enjoy the performances in parts, especially by Stephen Dorff as the psycho boyfriend, but overall, there isn't much that could redeem this film.
Jim Hunter
Super Reviewer
Helen Mirren, Cuba Gooding Jr., Vanessa Ferlito A mother and her stepson have a romantic relationship while working as contract killers, but soon they learn there is someone trying to hunt them down. ~~~~~~~~~~~~~~~~~~~~~~~~~~~~~~~~~~~~~~~~~~~~~~~~~~~~~~~~~~~~~~ I actually don't know how to explain this movie. It was a bit disturbing. But the story was really interesting. Helen Mirren was great in this movie. I really liked Cuba Gooding Jr's performance. This whole movie was something you felt kinda wrong for watching but you can't help to, cause of the story, and you want to see where it goes. First movie I have ever watched with Vanessa Ferlito I believe. Thought she was great. It's definitely a movie worth seeing. The characters had some odd love interests that surprised me. Not so much in a good way. Kinda made me cringe, but not in disgust or anything, just uncomfortable. LOL. I watched this movie cause it has some of my favorite actors in it. Turned out to be a little bit more interesting then I thought it would be, and some things took me by surprise, but its a film I would possibly watch again.
♥˩ƳИИ ƜѲѲƉƧ♥
Super Reviewer
½
This was certainly a film of odd pairings, Helen Mirran and Cuba Gooding Jr and then Joseph Gordon Levitt and Mo'Nique, but the strangest part of the film was the sexual content, which seemed to be just oddly placed here and there and didn't seem to fit in with the rest of the film. Despite the quality of some of the Actors here, this was a film that never quite reached the excitement we were planning on.
Lady D'arbanville
Super Reviewer
Shadowboxer Quotes
| | |
| --- | --- |
| Rose: | The only man a woman can count on is her son. |
| | |
| --- | --- |
| Dr. Don: | Always an adventure with Rose. |