Shadows in the Sun
(2005)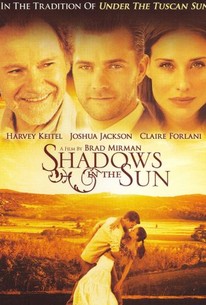 Shadows in the Sun Photos
Movie Info
Dawson's Creek star Joshua Jackson stars as Jeremy, a British book editor and aspiring writer seeking a new lease on life, in Shadows in the Sun, an uplifting drama from ABC Family. Sent by his employer to Tuscany to elicit a new book from dried-up (and cantankerous) exiled author Weldon Parrish Harvey Keitel, Jeremy soon finds himself smitten with Weldon's daughter Isabella (Claire Forlani) and gradually connects with Weldon despite the man's initial resistance. Soon, the two men begin encouraging each other to write as romance flowers between Jeremy and Isabella.
Critic Reviews for Shadows in the Sun
Audience Reviews for Shadows in the Sun
½
At the start, the movie Shadow Dancer opened with a young guy played by Joshua Jackson getting ready to go to work in busy London. Then the movie progressed to Italy and when Claire Forlani popped up with her sexy eyes in the movie, it became more interesting. I liked her acting from Meet Joe Black. Harvey Keitel played a burned out famous writer who did not want to see any publishers. Joshua Jackson task was to visit Keitel and see if he could make him write again and signed up a contract with him. There was lots of comedy and great scenes in Tuscany Italy, and all the actors were outstanding. The romance was charming, however, they could have put just a little more romance to it. I missed that.
Daisy Maduro
Super Reviewer
Now this is a double 'eh'. I don't even know why I rented this one. I knew it wasn't going to be any good anyway. Well let's see your typical love story... boy meets girl, boy sleeps with girl, girl rejects him, boy almost leaves, girl wants him back again. Frankly, the girl (Linda Forlani was the actress who I started to dislike ever since Joe Black) was a slut. She slept with him just so she could see what it was like? Pfft! Slut! Next!
½
Let me tell you about Israeli airport security. Okay, sure, I have a schvatz of more interesting experiences to relate, as I am currently in Jerusalem, but this one clings to my mind like a yarmulka in a windstorm. That is to say, it's mysteriously clingy. I'll be terse. Flight was at 11:20 in the PM from Cairo to Tel Aviv. I arrive at 7. I heard stories. Risking missed flights is something I only practice in domestic travel (extensively). Early was the way to go, just in case. *cue ominous hava nagila* The entire El-Al Airlines counter area was cordoned off, and within were a cadre of passengers being interrogated one-by-one. My passport was double- and triple-taked before I was waved over to a music stand, where the Israeli security 'conductor' began her badgering. What happens next was an amusing defragmentation of my previous several hours, days, weeks, including the assorted tiny histories of each knick-knack and paddywhack I had in my packs. I was an excellent storyteller, a funny one, but my charms, even on low voltage, would not mollify the determined, humorless visage of this female character. I mean, could she be any more Jewish? Meshugass! I recited family histories, travel histories, the well-versed and humbling history of my extreme note-taking ticks, the true history of the ink pens I had with me, the history of Honduras after 1926, the unsurpassable history of the lint in my dangfangled bags! And, a colorful narration of the photos in my battered and travelworn digicam. As well as the story behind the tape covering the memory card slot ON the camera (something to remember Beijing by). And the lass? Stone-faced as a golem. What a Jew! Can you buh-leeve it? Robots in the holy land... and they say the Jewish Conspiracy was a farce. Ahhhhhem. So this process was repeated and three-peated over the course of an hour. Apparently computers were down, so Security Streisand here thought it best to pass the time by re-deploying the "difficult question" missile barrage. "Why are you going to Israel at a time like this?" she asks, shockingly with a wry smile. Oy vey! I believe at some point she achieved satisfaction with her questioning, because I was escorted behind the grey curtains in the back, away from where all the other, apparently less suspicious passengers were led. This is where the contents of my bags were burned and mixed into a small beaker of purple liquid. A drop of the purple inside the green liquid was the litmus, so to speak, and if it remained unchanged, I would only have my memory erased of the entire procedure, but if the purple changed the green to a red, I would be vaporized on the spot (I saw this happen to the unfortunate passenger in front of me). I recall one lobe of my beauteous brain dodging in front of the other as the mind-ray zapper shot its zap, in brave slow-mo, but I don't remember which lobe had courage and which lobe had selfishness. Anyway, as I trained each lobe to function independently, all logical, creative, and supernatural components of my mind were preserved. And probably X-rayed with every other personal item I could produce. Nothing is yours in Israel! [i]In Communist Russia...[/i] Apparently two more hours passed before I was escorted to the boarding area. Where those hours went I cannot say. Maybe they boarded the plane before me, like every other freaking shagetz! I do remember seeing a couple of guys that looked like David Schwimmer and Harvey Keitel, and thought, "That's interesting." And then the flight happened, and I had more passport issues in Tel Aviv and another session of Harangue 101 (and thankfully without the science elective, Full Body Cavity Search 111) from several different people who do magnificent things with the mucus in their throats to produce this Hebrew-coated English. Maybe they get together with ze Germans and compete. So much for being terse. Tomorrow I go to East Gish or Hoyettesville or somewhere. Perhaps I shall return with a clutch of snappy yiddish zingers. Since I still won't be posting pics of my journeys, here is some temporary entertainment for you attention monkeys: Neum rollerskating! Shalom! *turns on "Play That Funky Music"* [img]http://img.photobucket.com/albums/v293/neumdaddy/FatCity11.jpg[/img] [img]http://img.photobucket.com/albums/v293/neumdaddy/FatCity7.jpg[/img] [img]http://img.photobucket.com/albums/v293/neumdaddy/FatCity15.jpg[/img]
Neum Daddy
Super Reviewer
Shadows in the Sun Quotes
There are no approved quotes yet for this movie.