Shaft in Africa
(1973)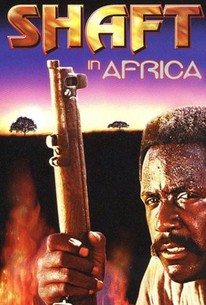 Movie Info
This is the third entry in the Shaft series. This time the tough New York gumshoe heads for the Dark Continent to expose a ring of modern-day slavers.
Critic Reviews for Shaft in Africa
Audience Reviews for Shaft in Africa
The budget for the third and final Shaft film was even larger than before. As a result, a white director was brought in to handle things. That director was John Guillermin, the man responsible for the 1970s King Kong film. That was a disaster. This however, despite being a mixed bag, is halfway decent (all things considered). The plot concerns Shaft going to Africa to infiltrate a modern day slave cartel. It's an interesting idea filled with some good subtext and social issues. However (and this may or many not have to do with Guillermin being white), the film also comes across as rather pandering, racist, and offensive at times. The characters are caricatures and this film exemplifies the term "exploitation" in more ways than one. Taken as a genre film though, it's not too bad. As a regular movie, well, then we have problems. There's lots of good action scenes, and this is by far the most violent of the trilogy. The camera work is good, and so is the music. There's no sign of Isaac Hayes, but the theme song by the Four Tops rocks. It was later used in a brief segue scene in Superbad (when the guys travel across town on the bus to the liquor store). This film had the potential to be excellent both as a genre film, and as a movie with important themes and messages. It comes up short in both areas, but is still really damn fun and entertaining.
Chris Weber
Super Reviewer
Shafts third adventure and the plot wouldn't look out of place in a Tintin story, albeit with a much higher body count (if you're a baddy, you're gonna die. Soon). Plus a good ten minutes of gratutious nudity as Shaft gets his kit off to demonstrate his stick fighting skills . But despite these (because of these?) flaws, it's still one entertaining film, largely thanks to Richard Roundtree's natural on-screen charisma and a heap of pretty tunes from the Johnny Pate + The Temptations soundtrack.
½
The ever-cool Richard Roundtree, who along with the equally awesome John Saxon has played more cops than any other actor alive, makes his third appearance as John Shaft, the super-tough, super-smooth, oh-so-hot black private dick who's a sex machine to all the chicks and a most gnarly guy who's always getting into loads of trouble. This time our main man Shaft -- the ultimate bad-a** soul brother from the Big Apple hood -- goes to the motherland (that's Africa, homeys) so he can get the goods on an evil black slavery ring that's run by -- natch -- an odious bunch of wicked white b**tards, with the Major Nasty Man himself being suavely slimy French dirt-bag Frank Finley. Like, can you dig this funky s**t, baby? Well, frankly I totally dug this simply fantastic and wonderfully outrageous globe-trotting action/adventure treat. John Guillerman's briskly efficient direction keeps the rousing zesty momentum humming along throughout, the action scenes are suitably rough, strenuous, exciting and dynamically staged (the stick fights in particular are the genuine happening article), there's a welcome sense of wryly self-deprecating humor (a male assassin in drag tries to plug Shaft in an airport bathroom!), the dialogue sporadically offers a few profanity-laced slangy zingers ("Baby this may blow your mind, but I don't want to [*very naughty word deleted*] you?") and the snappy pace never lets up for a minute, thereby ensuring that "Shaft in Africa" races towards a thrilling conclusion with terrifically steady and unwavering headlong brio. Moreover, the luscious Vonetta McGee lends her fetching, captivating presence as a foxy young African princess who helps Shaft out, Johnny Pate's intensely groovy wah-wah guitar-ripping score is very easy on the ears, the ever-wondrous and under-appreciated Frank McRae pops up in an amusing minor part as a bothersome henchman, the African scenery's gorgeous, Roundtree carries himself with his customary extremely watchable and winningly easy'n'breezy off-handed grace, and -- hubba! hubba! -- the tiny, adorable, curvaceous blonde looker Neda Arneric will definitely raise the blood pressure of any red-blooded heterosexual male with her smoking hot portrayal of Finley's sensuous, sex-starved main squeeze (Arneric's steamy seduction sequence with Shaft is so incredibly sexy and arousing that it nearly melted my DVD player). A hugely satisfying and immensely stirring final filmic fling for blaxploitation cinema's single most engaging and significant take-charge man's man rugged individualist protagonist.
Cassandra Maples
Super Reviewer
Shaft in Africa Quotes
There are no approved quotes yet for this movie.