Shakes the Clown
(1992)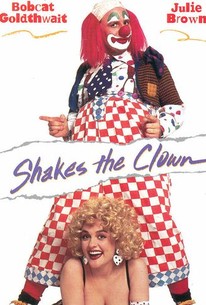 Movie Info
This black comedy chronicles the fall of one of the world's most unlovable clowns as he plies his trade and tries to survive in Palukaville a town where everyone is more or less a Bozo. Shakes loves women and more than that, he loves his booze. Like many of his painted peers, ol' Shakes likes to hang out at The Twisted Balloon, the favorite local pub where he hoists a few, beats up on mimes (the lowest caste in Palukaville) and causes trouble with his girl friend Judy, a woman who cannot say the letter "L." Because the slovenly Shakes can't seem to make it to birthday parties sober and on time, he is fired from his booking agency, causing him to go on a big drinking binge. Later, Shakes awakens and learns that Binky, a lousy TV-clown, is framing him for beating up Shake's former boss with a juggling pin. Now poor Shakes must clear his name. He must also rescue "Juwee" who has been kidnapped by the nefarious Binky, and he must come to grips with his alcohol problem (perhaps the film could be therefore titled "Clown and Sober?"). Keep an eye peeled for cameos by Robin Williams, as a mime instructor, and Florence Henderson as one of Shake's illicit sexual conquests.
News & Interviews for Shakes the Clown
Critic Reviews for Shakes the Clown
Audience Reviews for Shakes the Clown
½
This movie is a bit weird, but that's what I love about it. Goldthwait has a weird dark sense of humor, and it really makes this movie unique. There is also an interesting cast, as you can see on here, it's made up of a bunch of people you never expected to see in a film together. Anyway, if you like strange comedies, you'll like this one.
Shakes the Clown Quotes
There are no approved quotes yet for this movie.