Shakespeare in Love
(1998)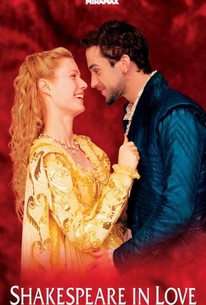 TOMATOMETER
AUDIENCE SCORE
Critic Consensus: Endlessly witty, visually rapturous, and sweetly romantic, Shakespeare in Love is a delightful romantic comedy that succeeds on nearly every level.
Shakespeare in Love Photos
Movie Info
William Shakespeare (Joseph Fiennes) is on a cold streak. Not only is he writing for Philip Henslowe (Geoffrey Rush), owner of "The Rose," a theatre whose doors are about to be closed by sadistic creditors, but he's got a nasty case of writer's block. Shakespeare hasn't written a hit in years. In fact, he hasn't written much of anything recently. Thus, the Bard finds himself in quite a bind when Henslowe, desperate to stave off another round of hot-coals-to-feet application, stakes The Rose's solvency on Shakespeare's new comedy, "Romeo and Ethel, the Pirate's Daughter." The problem is, "Romeo" is safely "locked away" in Shakespeare's head, which is to say that not a word of it is written. Meanwhile, the lovely Lady Viola (Gwyneth Paltrow) is an ardent theatre-goer -- scandalous for a woman of her breeding -- who especially admires Shakespeare's plays and, not incidentally, Bill himself. Alas, she's about to be sold as property into a loveless marriage by her mercenary father and shipped off to a Virginia tobacco plantation. But not before dressing up as a young man and winning the part of Romeo in the embryonic play. Shakespeare soon discovers the deception and goes along with it, using the blossoming love affair to ignite his muse. As William and Viola's romance grows in intensity and spirals towards its inevitable culmination, so, too, does the farcical comedy about Romeo and pirates transform into the timeless tragedy that is Romeo and Juliet. ~ Merle Bertrand, Rovi
Critic Reviews for Shakespeare in Love
Audience Reviews for Shakespeare in Love
Shakespeare in Love is a film that I really wanted to enjoy, but I simply didn't get into it. For me, it's a mediocre film, one that fails to really grab your attention and it really should have been something great. However this is a film that is killed by the hype, and watching this, I simply didn't understand its grandeur or reasons why it's superb cinema. Before I get flack for my review. I consider films like Lawrence of Arabia, Gone with the Wind, the Godfather to be great cinema. Not this. But that's my opinion. Shakespeare in Love felt like it just strived to please the board of the Academy, and it sure did, as it's your typical Oscar Bait film. I usually enjoy films such as this, but like I said, the film didn't grab my attention, I felt that there was something lacking in the film to really make it memorable. The cast did do a fine job in what they brought to the screen, but the film just tries far too hard to impress that it just ends up underwhelming. I felt that it didn't warrant an Oscar win, as there were far better films to win than this. Saving Private Ryan should have won, because it's a far superior, more emotional film, and one that is captivating from the first frame onwards. This on the other hand just feels tiresome in the long run, a film that is tedious and tries far too hard at grabbing your attention, and in doing so, you lose interest, and a film like this should have grabbed your attention effortlessly. But everything feels overdone, and it ends being a film that doesn't satisfy.
½
sweet and pleasant but completely unworthy of its oscar win. gwyneth is fine but again not award worthy. the divine judi dench certainly deserves awards but not for this. ben affleck is charming however in this trifle.
½
'Shakespeare in Love'. A genius, meta-adaptation of Shakespeare's 'Romeo and Juliet', telling the story behind the story. A magnificent screenplay about the very truth and nature of love.
Shakespeare in Love Quotes
| | |
| --- | --- |
| Philip Henslowe: | See you in prison. |
| | |
| --- | --- |
| Viola De Lesseps: | I don't know. It's a mystery. |
| | |
| --- | --- |
| William Shakespeare: | Love denied blights the soul we owe to God |
| William Shakespeare: | Love denied blights the soul we owe to God. |
| | |
| --- | --- |
| Viola De Lesseps: | This is not life, Will. It is a stolen season. |