Shallow Ground
(2004)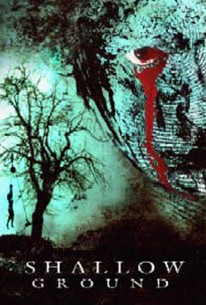 Movie Info
When a mysterious boy covered in blood appears in the lazy town of Shallow Valley, the nightmares of the past follow him in this dark tale from newcomer Sheldon Wilson. It's been exactly one year since Sheriff Jack Sheppard (Timothy V. Murphy) found the last-known victim of a brutal serial killer in the throes of death, and his failure to save their life and bring the killer to justice has haunted him ever since. As Sheriff Sheppard begins to close up shop in his remote outpost, the sudden appearance of a blood-soaked boy with a large knife brings a series of tragic memories flooding back to the shaken lawman. Now, with the past standing before him in all its crimson glory, Sheriff Sheppard must look deep into the darkest corners of his soul and face his fears without hesitation if he is to finally solve the mystery that has nearly consumed him, and free a small town from the stranglehold of a vicious killer.
Critic Reviews for Shallow Ground
Audience Reviews for Shallow Ground
Exciting and fun, despite the small budget, it managed to fund for good actors and nice special effects. The plot was clever, filled with one twist after another. It's got everything a good horror film needs: Gore, serial killer, weapons, supernatural elements, cat and mouse chase and nudity. It's certainly ground breaking and filled with surprises. Shallow ground will not disappoint any horror fans.
Sylvester Kuo
Super Reviewer
Creepy, bloody and unsettling. A well made and effective little horror film with an intriguing story that was less predictable than I was expecting, but towards the end things weren't explained too well. It's definitely a film that deserves a bit more recognition, horror fans should check it out.
trange movie not without its moments but tame really.
Barry Lappin
Super Reviewer
Shallow Ground Quotes
There are no approved quotes yet for this movie.