Shallow Hal
(2001)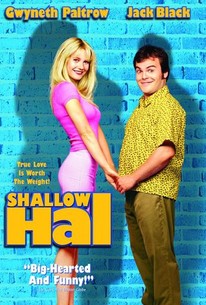 TOMATOMETER
AUDIENCE SCORE
Critic Consensus: While surprisingly sweeter and warm-hearted than previous Farrelly outings, Shallow Hal is also less funny and more bland.
Movie Info
Jack Black continues his march to stardom with this typical Farrelly brothers blend of broad comedy and a heartfelt message. Black is Hal Larsen, a shallow man rapidly approaching middle age whose superficiality can be attributed to his father's deathbed admonition to only date young, beautiful women. Hal and his best friend, Mauricio (Jason Alexander), have taken the advice to heart, but Hal finds all of his physically impressive girlfriends consistently lacking in other qualities that would make them ideal mates. When he bumps into self-help guru Tony Robbins (playing himself), the motivational entrepreneur is intrigued by Hal's predicament and hypnotizes him so that he'll only see the inner beauty of women. Hal is quickly smitten with Rosemary Shanahan (Gwyneth Paltrow), a blonde Peace Corps volunteer who's tenderhearted, funny, and intelligent. She is also gorgeous and meets Hal's basic criteria of outer perfection, but what he doesn't realize is that Robbins' spell is working and he cannot see that Rosemary actually weights 300 pounds. When Mauricio is finally able to snap Hal out of his charmed state, Hal's in love with the inwardly perfect woman and must overcome his obsession with beauty. The script for Shallow Hal (2001) was developed when Peter Farrelly enjoyed the humorous letters written to a mutual friend by Sean Moynihan, a computer software executive who followed the filmmaker's advice to take up screenwriting. ~ Karl Williams, Rovi
News & Interviews for Shallow Hal
Critic Reviews for Shallow Hal
Audience Reviews for Shallow Hal
½
This is one of those movies that I always watch if I happen to flip to it half an hour in on TBS or FX. Yes, there are plenty of fat jokes, but Gwyneth is the most down-to-earth I've ever seen her, and Jack Black gets some great dawning moments as well, like with Cadence in the burn ward.
Alice Shen
Super Reviewer
½
A message comedy? Perhaps. The Farrelly Brothers seem to be answering their critics who often see them as sophomoric (if that) with this bon bon (forgive me) that reminds that beauty is in the eye of the beholder. The comedy: one fat joke after another. The message: like most messages, boring as hell (who do you think you are, tryin' ta larn me!). The final analysis: viewers choice.
Kevin M. Williams
Super Reviewer
Quite a generic Hollywood chic flick.
Sophie Burgess
Super Reviewer
Shallow Hal Quotes
| | |
| --- | --- |
| Hal Larsen: | so what are you in... the army?? |
| Hal Larsen: | So what are you in... the army? |
| Rosemary Shanahan: | peace corps. |
| Rosemary Shanahan: | Peace corps. |
| Hal Larsen: | peace corps.. wow.. that's very... ultradocious of you... |
| Hal Larsen: | Peace corps.. wow.. that's very... ultradocious of you. |
| Rosemary Shanahan: | ultradocious? thats not a word.. ahh you mean humanidocious.. right? :) |
| Rosemary Shanahan: | Ultradocious? That's not a word.. ahh you mean humanidocious.. right? |