Shampoo
(1975)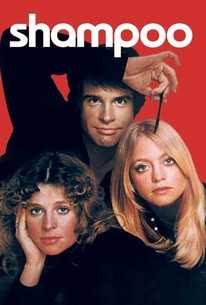 TOMATOMETER
AUDIENCE SCORE
Critic Consensus: Shampoo trains a darkly comic lens on post-Nixon America, aiming at -- and often hitting -- an array of timely targets.
Movie Info
This film is set the day after Nixon's election in 1968. George is a Beverly Hills hairdresser whose services to his female clients sometimes extend beyond a mere snip. George borrows money from his lover's husband, who in turns requests that George escort his mistress to an election night party.
News & Interviews for Shampoo
Critic Reviews for Shampoo
Audience Reviews for Shampoo
½
Taking place on the eve of Richard Nixon's taking of the presidency, but released in the aftermath of Watergate, this film provides a nice commentary about the Nixon years, made more potent by the fact that the audience (but not the characters) are aware of how things would turn out with Nixon. This isn't a film about presidential politics though. Rather, it is about sexual ploitics. I just mentioned all of the above since the film places things within a certain context, which also gives more weight and depth to the satire it is presenting about what was going on at the time. SImply put, if one wanted a historically rooted film that commented on the sexual revolution, this would be one to watch. Warren Beatty plays George- a successful hairdresser on the verge of financial ruin who gets in way over his head when the man who might loan him some money just happens to be with an ex of his, as well as the father and husband of two other woman (among others) that he is sleeping around with. This makes for both some fun satirical laughs, as well as some poignant drama that ties in with the death of 60s idealism and the terrible hangover that hits when the party ends. Robert Towne (who also wrote Chinatown) penned the script, and apparently Beatty had a hand of some sort in the writing process as well. Hal Ashby directs, and it is one of several 1970s masterpieces he was responsible for helming. I really like that guy, and it is good to see thast others are starting to feel the same way (on a broader scale). Beatty and the rest of the cast (including a young Carrie FIsher) are all excellent, and somehow, we actually sympathize with some of these characters, and kind of care for them, even if we really shouldn't. Give this one a watch. It's a great film with a strong ending, and a great look at the times it both portrays and came about during.
Chris Weber
Super Reviewer
Although there are a lot of outrageous scenes, they aren't as funny as they think they are. The story isn't all that interesting either, but it does have a good cast.
A great film. The more and more I see his films, Hal Ashby is becoming one of my favorite directors. This is another example of how great of a director he is. Of course, Warren Beatty is basically playing himself as a hairstylist and giving him an excuse to bang Julie Christie (how amazing does she look in this film) on screen and in front of a crew. The best performances to me were Goldie Hawn and Jack Warden who steals the show. Beautiful cinematography, great writing, and a great cast. It's a shame to watch these movies and know that it may never be like that decade of greatness ever again.
Shampoo Quotes
There are no approved quotes yet for this movie.