Shanghai Knights
(2003)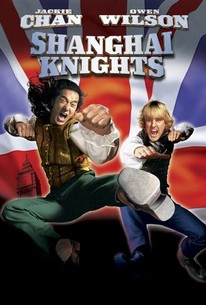 Movie Info
East and West team up to take on bad guys in the British Empire in this sequel to the action comedy hit Shanghai Noon. Chon Wang (Jackie Chan), once an Imperial Guard in China, is now the Sheriff of Carson City, NV, while his onetime cohort, former train robber Roy O'Bannon (Owen Wilson), scrapes together a living writing dime novels based on his adventures and waiting tables in New York City. However, when Wang learns that his father was killed by bandits who broke into the Emperor's palace and stole the Imperial Seal, he's determined to bring the criminals to justice. Wang's sister Lin (Fann Wong) has learned that the killers have escaped to London, so Wang travels to England to meet her, with O'Bannon in tow. As Wang and Lin -- whose martial arts skills rival those of her brother -- look for the culprits, they discover that Lord Rathbone (Aidan Gillen), who is looking to shorten his path of succession to the British throne, is in cahoots with Wu Chan (Donnie Yen), the bastard son of the Chinese Emperor's father, who needs the Imperial Seal as part of his plan to win control of the nation. As Wang and Lin try to get to the bottom of Chan's schemes, O'Bannon finds himself infatuated with his pal's sister. While set in Victorian London, Shanghai Knights was actually filmed on locations in the former Czech Republic, which more closely resembled turn-of-the-century England.
Critic Reviews for Shanghai Knights
Audience Reviews for Shanghai Knights
½
David Dobkin goes British with Shanghai Knights.
105 minutes of adventure, action, and comedy sums up this picture. On top of that, it does all three without fail. The story, while obnoxious, is full of references and entertainment value. There is never a dull moment as the story pushes forward and the comedy keeps coming.
The action is highly stylized and a barrel of fun. The stunt work and usage of objects generate highly amusing fights. The background music during some of these segments is worthy of note as well.
From time to time, Owen Wilson comes across as cheesy; however, he blends in with the style of the film. Jackie Chan does what he does best, and that is beat the living daylights out of people. Fann Wong, Donnie Yen, Aaron Taylor-Johnson, and Aidan Gillen round out a solid cast of characters.
Shanghai Knights succeeds in what it sets out to do, thus leading to a better than average action adventure.
[img]http://images.rottentomatoes.com/images/user/icons/icon14.gif[/img]
Directors Cat
Super Reviewer
A tad disappointing but still good considering that Shanghai Noon was a lot of fun with great gags and action, this one is good but lacks the effectiveness of the first film. This sequel is still funny, with lots of good comic bits and the cast delivers. If you've enjoyed the first film, then you're sure to enjoy this film because of the fact that it kept most elements of the first film intact. Owen Wilson and Jackie Chan still have good chemistry and they are both very funny. As a sequel the film is pretty considering the fact that sequels are usually hit and miss. With Shanghai Knights, there's plenty to enjoy and is a good sequel that will most likely appeal to people who enjoyed the first. The film has effective comedy blended with good action that's really lots of fun. Shanghai Knights is a definite must see if you want something funny and entertaining. The best way you can view this film is pure entertainment. This is a film that really shouldn't be taken seriously, and despite the fact that it's imperfect, this is still very much a lot of fun from start to finish. Shanghai Knights is a good comedy that is supported by a good cast. I very much enjoyed the film, but is not as good as the first. However with every sequel that's to be expected. This is a fun film to watch, and like I said if you enjoyed the first, you're probably going to enjoy this one too. What made this film worth watching was the comedy that really stood out, and though not as good as the original, the film is still worth your time if you're in the mood for some silly entertainment.