Shaolin Martial Arts
(1974)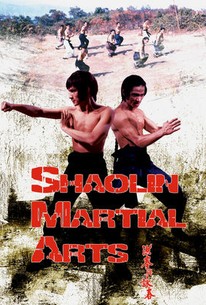 AUDIENCE SCORE
Critic Consensus: No consensus yet.
Movie Info
In this martial-arts actioner, two kung fu acolytes find themselves engaging in mortal combat.
Critic Reviews for Shaolin Martial Arts
There are no critic reviews yet for Shaolin Martial Arts. Keep checking Rotten Tomatoes for updates!
Audience Reviews for Shaolin Martial Arts
Another good kung-fu click from Cheh Chang. While it is not as good as some of his later movies, like Chinese Super Ninjas, this film has its moments.
When it comes down to it the concept for the movie is nothing new. Good guys take a beating from the bad guys before getting special training to get revenge.
The beginning of this film is actually the weakest point. The story feels like it is going nowhere slowly and the good guys seem a little villainous. The fights for the first quarter of the film are also completely one-sided, which makes them rather quick. Once you reach the middle of the film you get the training segments. While these segments are nothing new in these films, they aren't as entertaining as seen elsewhere. In case you are wondering, there are some parts in here that you will see redone in Kill Bill.
There isn't as many fights as Chinese Super Ninjas, but this film has its share. The choreography is good, but not great and they are not as long as fights in other movies either. The last fight is probably the best and Gordon Liu also has a nice fight. It's just too bad that he is only a side character. One of the downsides to the fights in this movie is the sound effects. They are cheesy, but they aren't cheesy enough. That may not sound right, but we all know that those sound effects really make these movies entertaining.
What this movie does do well is use different styles of martial arts, which makes this bland title actually fit. If you like the eagle's claw or the tiger style you may want to see this.
Other than the good acting by Sheng Fu or the unique training segments, this movie doesn't stand out from the others all that much. It should be a good watch for classic kung-fu fans though.
Shaolin Martial Arts Quotes
There are no approved quotes yet for this movie.