Shaolin Soccer
(2004)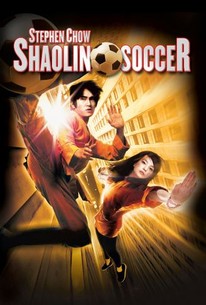 TOMATOMETER
AUDIENCE SCORE
Critic Consensus: The plot is utterly ridiculous, and the soccer in the movie is unlike any ever played anywhere on Earth, but watching Shaolin Soccer, you will probably find it impossible to care.
Movie Info
One of Hong Kong's top screen comics, Stephen Chow, co-wrote, co-directed, and headlines this three-way blend of sports, action, and humor. Sing (Stephen Chow) is a modern-day Shaolin monk who has become a master of traditional fighting skills, and is renowned for his "leg of steel." However, these days there isn't much call for a Shaolin warrior, and Sing and his fellow monks earn their keep working menial jobs until a soccer coach gets the bright idea of translating Sing's talent for kicking to the soccer field. Sing becomes the lynchpin of a team playing in a tournament that could net them a $1 million purse, but even with Sing's footwork, beating the steroid-fueled champions will be no easy task. Shaolin Soccer also features Man Tat Ng and Vicki Zhao.
News & Interviews for Shaolin Soccer
Critic Reviews for Shaolin Soccer
Audience Reviews for Shaolin Soccer
½
A hilarious goofy comedy that makes me laugh to tears from beginning to end, and it is so amazing the way it embraces kung fu action, Western movies tropes, cartoonish visual effects and a lot of delicious nonsense to create a unique martial arts movie.
Carlos Magalhães
Super Reviewer
Chow's comedic creativity knows no bounds. From a soccer field under attack, turned into a war movie sketch, to the gongfu moves on the soccer field where turf and clothes equally go flying--everything is so delightfully kua zhang (exaggerated). Enjoyed the cameos from Karen Mok and Cecilia Cheung, and Danny Chan Kwok-kwan's Bruce Lee impersonation. The only reason I'm not rating 5 stars is for the lower production value and some unconvincingly awkward chemistry between characters.
Letitia Lew
Super Reviewer
½
Soccer star "Golden Leg" is bribed into throwing an important match and has his legs broken in retribution. Twenty years later he teams up with a young Kung Fu master to win a prestigious Soccer Tournament and revenge himself on the man responsible. Shaolin Soccer is a witty, tongue in cheek pastiche of multiple film genres, including martial arts epics, Jackie Chan style chop socky slapstick, sports underdog films and even spaghetti westerns. This mish mash of styles and genres reminded me very much of the kind of knowing comedy Simon Pegg would make rather than the juvenile scattershot parodies of Zucker/Abrams. There's a lot of humour in the notion that ordinary people are using Shaolin Kung Fu in everyday life and Chow cleverly uses loony tunes-style CGI and costumes to intercut between the mundane and "epic". The sports film formula is cleverly parodied (the villain's team is called "Team Evil") and the wire work during the match sequences is hilarious! Unfortunately, like Shaun Of The Dead, it is a bit of a one-idea film, and it could've stood to lose a little flab in the middle as it runs out of steam occasionally. But only occasionally. It's a very funny film with plenty of laugh out loud moments, and the combination of martial arts and football will appeal to stereotypical heterosexual men everywhere!
Shaolin Soccer Quotes
There are no approved quotes yet for this movie.