Sharknado
(2013)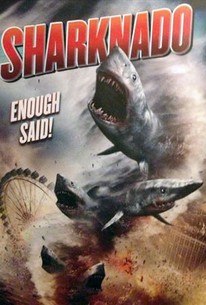 Movie Info
A freak storm brings hundreds of vicious, man-eating sharks ashore in Los Angeles and a group of friends struggle to steer clear of their violent and destructive path. ~ Megan Walsh-Boyle, Rovi
Critic Reviews for Sharknado
Audience Reviews for Sharknado
This was the absolute worst. Just...no.
Flutie Archibald
Super Reviewer
We're gonna need a bigger chopper! Funny Movie but just a bad overall movie! Let me just say that I watched this movie to be entertained not enthralled or hanging on the edge of my seat but just distracted and carefree for a couple of hours. I got what I wanted. Only, I didn't expect to laugh so much. I'm thankful for the laughter, though, because it kept at bay any sort of aesthetic sense that might have interfered with my viewing pleasure. If you want to be moderately entertained, then I don't think you will be disappointed with Sharknado. Don't expect too much going into it-and bring with you a willingness to suspend your own sense of disbelief. Most important, keep in mind that this is not Jaws. I don't think that fact will slip you mind, however. The director made sure of it. When a freak hurricane swamps Los Angeles, nature's deadliest killer rules sea, land, and air as thousands of sharks terrorize the waterlogged populace.
"Sharknado" takes everything that is good even in the worst of films, throws it out the window, and does whatever it feels like doing. This is not a movie, but a parody on Hollywood films, and the dialogue in the film, along with the deaths, speak that to it's audience, and if you are not a big film fan I'm pretty sure this film will make you rip your head off, due to it's god awful visuals and horrific acting. I felt like I let a doctor physically enter my mind and take out any brain cells I had left. From helicopters easily flying directly beside tornados to people stating the obvious, this is (even though one of the worst films ever) one of the most enjoyable films I've watched this year, but for all the wrong reasons. This film is terrible gold!