Sharknado: The 4th Awakens
(2016)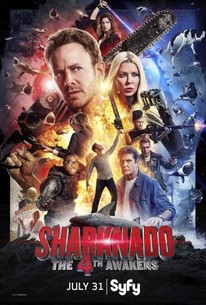 Sharknado: The 4th Awakens Videos
Sharknado: The 4th Awakens Photos
Movie Info
Ian Ziering will slay again in Sharknado 4: The 4th Awakens, reprising his role as shark-fighting hero Fin Shepard, while Tara Reid is set to return as April Wexler to reveal the outcome of the fan-voted #AprilLives or #AprilDies social campaign. The fourth addition to the hit global franchise also sees the return of David Hasselhoff as Gil Shepard and Ryan Newman as Claudia Shepard. Additional roles will be played by Tommy Davidson, Cheryl Tiegs, Gary Busey, Cody Linley, Imani Hakim and Masiela Lusha. Sharknado 4 will take place five years after the East Coast was ravaged in Sharknado 3. Fin, his family and the cosmos have been blissfully sharknado-free in the intervening years, but now sharks - and 'nados! - are being whipped up in places (and ways) that are completely unexpected... Sharknado 4: The 4th Awakens will premiere on July 31 at 8/7c.
Critic Reviews for Sharknado: The 4th Awakens
Audience Reviews for Sharknado: The 4th Awakens
½
Sharknado 4: Instead Of Jokes We Exclusively Make References To Other Movies Now.
Sorry to say but Sharknado films just aren't fun anymore, Yes the first three were very bad but they were fun ish, This one is just terrible, The plot is even more stupid, The action and acting were terrible, Every other scene featured a handful of unfunny cameos, The only thing that was remotely better were the shark effects, They were still bad but looked abit better, The humour doesn't work as it's mostly stolen one liners from other movies, Sharknado 4 went so silly and terrible it makes the first one look like an Oscar winning movie.
Jamie Clarke
Super Reviewer
½
I've reviewed every movie in the Sharknado saga. I will very likely review every Sharknado movie ever made from here on until the end of the time. As long as millions of people keep watching them, these movies will keep getting made. And even if people stop watching, the fact that these films are so cheap to produce means that, even if this franchise is killed off, shark-related films will still end up being made by The Asylum. I've made my feelings on this franchise very clear from the very beginning. And those feelings are the fact that they're making a purposely shitty movie, which takes away from sort of the charm they're meant to have. If you're gonna make an ass of yourself, which is the equivalent of what this series does, then it's gonna be infinitely more entertaining if you're not in on the joke. The Sharknado franchise has its tongue planted firmly in cheek and there's nothing wrong with that. Look at Starship Troopers, as an example. That's the perfect example of a B-movie done right. They may have had giant bugs to shoot in a sci-fi setting, but the film made an effort to actually be good and had a clever little script. These Sharknado movies don't do that. They don't make any sort of effort to make a good movie and they go out of their way to make a shitty one. And that's fine, but it's gonna make things a little less entertaining for some people, like me. But, again, and I seem to make this excuse for these movies, they still have some charm to them. Even if the law of diminishing returns is in effect and will continue to be in effect since a FIFTH movie airs later this year, if there's still an earth left by that point at least. But, and maybe it's just me, I'll be damned if I didn't think that this was actually the best Sharknado movie yet. And I know that that's like saying that eating puke is only slightly more appetizing that eating feces, but I "enjoyed" this installment of the franchise more than the others. And, of course, from film critics at least, this movie got the worst reviews of any Sharknado yet. There's not much in the way that's actually different, they're just trying to find newer ways to push the concept forward and to make it even more absurd and over-the-top. I don't know if it always works, but they made the attempt. You know that, at one point in the franchise, the sharknado had to go nuclear and that's pretty much what we got here. Well, at least in the third act. Like I said, they attempt to go even more over-the-top, but that's what this movie is known for, so it's hard to gauge how much more of a leap forward it actually is when it compares to other films in the series. April is now something like Iron Man, except Tara Reid isn't as good an actor as Robert Downey Jr. There's a cavalcade of celebrity cameos, which is where the majority of the budget goes towards. They're clearly not using it to fund better special effects or to teach its leads how to act, they want the recognition of being associated with so many B-celebs. And, really, it's kind of a smart move if you think about it. Getting all of these celebrities might, artificially, raise viewership. It doesn't actually do shit for quality, but I get the reasoning behind it. All in all, I think that this is far more inspired than your typical Sharknado movie, even the first one. And I don't really even know why that was, maybe I was in a better mood than normal. That might have helped, who knows. All the trademarks are still here, there's nothing that much different about this. The acting is still fucking dreadful, though that's by design. The special effects are even worse, though, again, by design. The film ignores physics, science and all the other laws of nature to provide as silly an experience as humanly possible. I think it succeeds on that front. It's still an awful movie with so many holes that every person who has lived, currently lives and will ever live all have their own individual holes. That sounds wrong, but you get my point. In short, it's another Sharknado movie. Long-time fans will eat this up, the non-converted will not enjoy this. As it stands, it's still a really fucking bad movie, but as far as what The Asylum was going for, I think this is their "best" effort. Good movie to watch with your friends and laugh at. That's pretty much why it was made. On Netflix too, so watch at your own risk.
Jesse Ortega
Super Reviewer
Sharknado: The 4th Awakens Quotes
There are no approved quotes yet for this movie.