Sharky's Machine
(1981)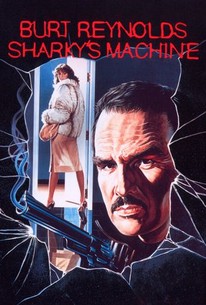 Movie Info
A William Diehl novel was the source of the noirish nailbiter Sharky's Machine. Sharky (Burt Reynolds) is an undercover cop who fouls up an assignment and is kicked downstairs to the vice squad -- a rough-shod bunch of hellraisers who make life miserable. Soon, however, Sharky's life does a 180 when he encounters Dominoe (Rachel Ward) a prostitute seemingly in danger from her interaction with a number of very seedy thugs. To protect her, Sharky lines the high-rise apartment across from her residence with security cameras and surveillance equipment -- which only makes matters sticky as Sharky begins to fall in love with her. The film opened to a very warm critical reception (Janet Maslin observed that "Burt Reynolds establishes himself as yet another movie star who is as valuable behind the camera as he is in front of it"). It also features one of the most dangerous stunts on film, wherein the late stuntman Dar Robinson free falls from 16 stories off the ground. The "machine" of the title refers to Sharky's fellow cops, played by heavyweights Brian Keith, Charles Durning, Bernie Casey, and others.
Critic Reviews for Sharky's Machine
Audience Reviews for Sharky's Machine
Burt Reynolds stars and superbly directs this atmospheric, volatile cop thriller which is one of most engrossing and stylish of the early 80s, concerning a Atlanta cop named Sharky, played with a solid conviction by Burt Reynolds, who is at his charismatic best here. His gung-ho tactics on a narcotics case gets a civilian shot which gets him demoted to the Vice Squad, there he forms a colorful crew into a machine aimed at bringing down a powerful cimelord named Victor D'Anton, played with a silky elegance by the late Vittorio Gassman, who has his hooks into a gubernatorial candidate named Hotchkins, nicely played by Earl Holliman. The beautiful and super sexy Rachel Ward wonderfully plays Dominoe, a $1000 a night hooker that has enough dirt on both the crimelord Victor and his puppet Hotckins to put them away for good, which has put her life in danger. Sharky is staking out her penthouse apartment with his crew, he is protecting her but also slowly falling for her. The superlative supporting cast all deliver outstanding characterizations they include Brian Keith, the late great Charles Durning, Bernie Casey, Darryl Hickman, Richard Libertini, John Fiedler and Val Avery. Special kudos must be given to Henry Silva, for his truly creepy performance as Victor's psychotic, drug-addicted hit-man brother. Astute direction by Reynolds, with dazzling cinematography by the late William A. Fraker. There is a great amount humor along with some brutal and superbly-staged action sequences including shoot-outs, an all out fight with a pair of ninja assassins on a houseboat, and a hair-raising torture scene. The film also features a superb urban jazz soundtrack that includes songs and music by Sarah Vaughan, The Crusaders, Doc Severinson, Chet Baker, The Manhattan Transfer and Julie London. A gritty and riveting rollercoaster of a crime drama. . Highly Recommended.
Danny Rovira
Super Reviewer
½
This cop movie has a lot of action and excitement, and it's got good cinematography. I was surprised that Reynolds directed it himself. Did anyone else notice that they stole the love story from the movie Laura (1944)? That was the only thing that distracted me from the rest of the story. Reynolds does a pretty good job as a cop, but the performance I liked most was Silva, he is so creepy! Overall, this movie is pretty good, if you like action packed cop thrillers, see it.
½
Burt Reynold's Direct's and star's in this great Cop film, Reynold's play's the Sharkey of the title, who is a tough cop whilst working in undercover a drug bust goes wrong, and is demoted to vice, The machine of the title refer's to the motley crew Reynold's's assemble's to bring down a crooked governor who is involved in high class prostitution Cocaine and contract murder, The motley crew is played by Brian Keith, Blackploitaion favorite Bernie Casey, Richard Libertini,(as alway's quirky as an ace sounds-man) Charle's Durning, as the chief, The beautiful English rose Rachael Ward play's Dominoe a $1000 dollar's a night hooker whom Reynold's's protect's and eventually fall's for, When staking out an apartment used by the governor. Italian actor Vittorio Gassman, play's the High stake's pimp, who has a deadly gang of triad's at his disposal, And Henry DeSilva, play's His psychotic brother hit man who is highly strung On prescription painkiller's and angel Dust, The action packed finale see's the remaining member's of the 'Machine' Engaged in a deadly shootout with Desilva, which culminate's in one the Most spectacular stunt's ever put to Celluloid, Alas Hollywood has ran out of idea's and is contemplating a remake of Sharky's Machine! Why bother a 25th Anniversary Special Edition DVD would be ideal, not a silly ass remake,
Cassandra Maples
Super Reviewer
Sharky's Machine Quotes
| | |
| --- | --- |
| Arch: | Its like Zen. Tennis. It's like Zen. You have this clearly defined space. All you have to do is control that space, become one with it. |
| | |
| --- | --- |
| Friscoe: | "I got THREE years to retire!...." |
| Friscoe: | I got THREE years to retire! |