Sharpay's Fabulous Adventure
(2011)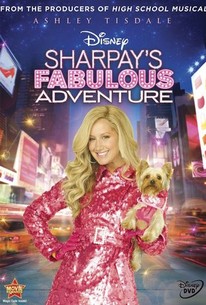 Sharpay's Fabulous Adventure Photos
Movie Info
This fabulous adventure follows the blonde-haired diva Sharpay (Ashley Tisdale), musical-theater prima donna from the High School Musical franchise, on her own adventure, as she travels to New York City hoping to make it big. But Sharpay has a hard road ahead, when she realizes that in the real world, leading roles aren't handed over to talented teenagers on a silver platter.
Critic Reviews for Sharpay's Fabulous Adventure
Audience Reviews for Sharpay's Fabulous Adventure
The "Sharpain" continues, and apparently it isn't "fabulous" at all to watch through this. Roger Elliston, a rival of Sharpay's, is much worse than Sharpay herself in this, and surprisingly but not enough there are fewer musical numbers than the HSM trilogy, yet they all suck. And what's the point of having the two dogs Boi (Sharpay's dog) and Countess (Roger's) falling in love with each other? That's disturbingly sort of a rip-off and a lesbian version of Lady and the Tramp, apart from not having any significant importance to the intended plot. Even the idea of Sharpay's bright pink personality along with her tiny dog Boi tagging along is completely derivative of Legally Blonde. Now the only reasons I give this 1 star is cuz of the character Peyton whos seems to act a lot serious trying to work with Sharpay, Sharpay's dad's dispproval of her lack of talent, and for Ryan's special appearance at the end. Finally, I had enough of anything related to HSM for good, and they better not make any more.
Max Gilbert
Super Reviewer
½
When my wife told me that we are going to watch Sharpay's Fabulous Adventure I was really excited, because we are both animal lovers and I thought it was one of those hearth warming films for kids... I wish I was right... This was just another Disney direct-to video film of High School Musical spin-off starring Ashley Tisdale. She is Sharpay Evans, a girl who is trying to get a role in a Broadway show (I was not familiar with this character - actually never heard of it but then I was told that it is very popular - I am glad I never wasted time on it). It was the first Disney Channel Original Movie to be released on DVD before being broadcast on Disney Channel, and I understand why - this was for audience of Barbie dolls with NO brain! If you have an IQ above 70 you should be bored! But, somehow, Disney machine worked well on critics... they love it (as well as the free tickets to Disneyland)... of course, if you love bad singing, shallow thinking and lots of pink - this is a movie for you! Help Disney make more money!
This spin off is better than it's preceders with a well written script, however, casting was preposterous. Tisdale's acting should be praised
Sylvester Kuo
Super Reviewer
Sharpay's Fabulous Adventure Quotes
There are no approved quotes yet for this movie.