Shattered (Butterfly on a Wheel)
(2007)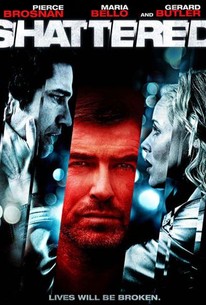 AUDIENCE SCORE
Critic Consensus: No consensus yet.
Shattered (Butterfly on a Wheel) Photos
Movie Info
A sociopathic kidnapper methodically pushes a desperate pair of parents to their absolute breaking point in this thriller starring Piece Brosnan, Gerard Butler, and Maria Bello. Life has been good to happily married Chicago couple Neil (Butler) and Abby (Bello); their flames in their relationship are still burning bright, Neil has a great job, and with the birth of their beautiful daughter Sophie the loving couple has grown into a budding family. So much can change in an instant though, and the moment that sadistic kidnapper Ryan (Brosnan) appears the fibers of this happy family are torn violently apart. Ryan knows everything there is to know about Neil, Abby, and Sophie, and now he's ready to use that information to put the two parents through the most excruciating experience of their entire lives. Should Neil and Abby not comply with Ryan's every demand over the course of the next twenty-four hours, he will kill young Sophie without a second thought. While at first the demands seem typical of your average kidnapper, they gradually begin to grow increasingly outlandish until it becomes obvious that Ryan doesn't want money, but simply enjoys the power that comes along with systematically dismantling their idyllic lives until there's nothing left for Neil and Abby to live for. Now left with nothing to lose, the monstrous Ryan finds out just how far a parent is willing to go in order to save their child when he commands Neil to commit one final act of annihilation that goes against everything the loving father and husband stands for.
Critic Reviews for Shattered (Butterfly on a Wheel)
All Critics (3) | Fresh (1) | Rotten (2) | DVD (1)
Enquanto mantém o espectador no escuro com relação às intenções do personagem de Brosnan, o filme funciona muito bem; é quando tenta amarrar as pontas soltas que percebemos que o roteiro não tinha muita segurança com relação ao seu desfecho.
July 10, 2008 | Rating: 3/5
...a fairly effective little thriller that's backed by a blistering pace and a trio of expectedly strong performances.
S' ena boliko sympan poy nyhtonei ksafnika otan prepei kai brehei otan hreiazetai, haraktires me endiaferoysa apsida ekseliksis, skalonoyn se eykoles lyseis dramatopoiisis, kai se kombika simeia poy tha eprepe na se boithisoyn na pas parapera, soy barane
Audience Reviews for Shattered (Butterfly on a Wheel)
A mind controlling Thriller, with an enjoyable role played by Pierce Brosnan. A gripping Thriller with an interesting twist.
Lady D'arbanville
Super Reviewer
½
Intense film about a couple who are taken into confinement by a sociopath who claims to have abducted their daughter. Neil and Abby(Gerard Butler,Maria Bello) must comply with a man(Pierce Brosnan) who doesn't want their money, but to destroy the seemingly perfect marriage for reasons that unfold as the story progresses. There's quite an interesting twist in this film, and the acting performances by Butler, Bello, and Brosnan are well done.
WOW i realy thoroughly enjoyed this movie! it was a really intense and thought provoking movie that leaves you stunned at the end, this film probably has one f the best endings ive seen in a long time, and it will shock you!! The acting was fantastic by everyone and maria bello is gorgeous as always, pierce brosnan puts on a stronger irish accent which is sexy as well. Its about Butler and his wife Bello have a perfect life, perfect husband perfect wife and child, when they leave there child with a babysitter and head to work they are startled when driving when pierce brosnan is in the back holding a gun at there heads! Secrets start to unravel and this iss a smart intense thriller!! Really worth a watch!!
Film Crazy
Super Reviewer
Shattered (Butterfly on a Wheel) Quotes
There are no approved quotes yet for this movie.